What Marvel Should Do With Spider-Man, According To Sam Raimi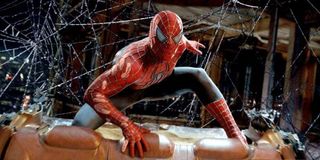 If there's one man who has a proven track record of bringing Spider-Man to the big screen in a vibrant, thought-provoking, and still entertaining fashion, it's Sam Raimi. Between 2002 and 2007, Sam Raimi oversaw three Spider-Man films with Tobey Maguire as his Peter Parker. And now he has his own idea for what Marvel should do with the superhero.
As you would have hoped, Sam Raimi was present at Comic-Con over the weekend, where he took in everything that the delightfully nerdy event had to offer. During his escapades at SDCC, Raimi sat down with MTV to chat about Spider-Man's future within the Marvel Cinematic Universe, and he believes that the studio should delve deeply into Peter Parker's life at high school.
Luckily for Sam Raimi, this is exactly why Marvel and Sony studios decided to cast 19-year-old Tom Holland, who actually looks closer to 13, in the role as Peter Parker. Their plan is to keep the character in high school while he adjusts to his superhero abilities. Of course, Emma Stone's performance as Gwen Stacy was one of the highlights of Marc Webb's Amazing Spider-Man films, but hopefully Marvel's latest take on the character will mean more exploration of the character of Flash Thompson, whose appearances in Spider-Man and The Amazing Spider-Man were relatively one-dimensional.
Raimi also added that he thinks Marvel's upcoming take on Peter Parker's tenure in high school, where he wrestles homework with his ability to tackle city-destroying lizards, will be "refreshing," and he hopes that it harkens back to his favorite Spider-Man comics.
And as Sam Raimi is one of the most cordial and pleasant individuals in the movie-making business, he also made sure to remark that he has "a lot of faith that [Marvel] really know their stuff." In fact, Raimi once again showed just how nice he is by even discussing Marc Webb's Amazing Spider-Man movies and insisting they were "great." Too kind.
Despite Raimi's declaration, it's widely regarded that 2002's Spider-Man and 2004's Spider-Man 2 are the pinnacle of Peter Parker's tenure on the big-screen. The latter especially is a perfect example of how to broaden a superhero world in a thoughtful, enthralling, and character-driven fashion, as Raimi managed to blend special effects with a moving human story, the cornerstone to which was Alfred Molina's Doc Ock. In my opinion, it's still the best superhero sequel that's ever been created. You can check out Sam Raimi's full interview with MTV News below:
Marvel and Sony's latest incarnation of Spider-Man will make his first appearance in next spring's Captain America: Civil War, before his own solo adventure will be released on July 28, 2017. And it sounds likes Sam Raimi will be first in line to see it.
Your Daily Blend of Entertainment News