Spider-Man Reboot Hires Two Comedy Writers, Get The Details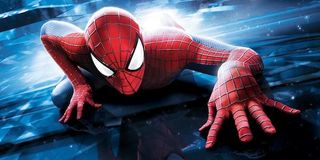 Now that they have Spider-Man back at home, Marvel is wasting no time getting the ball rolling welcoming the Web Slinger into the MCU. First, they hired Tom Holland to play him, John Watts to direct, and Marisa Tomei to play his aunt, and now they've hired Vacation writer/directors John Francis Daley and Jonathan M. Goldstein to handle the script for his first solo adventure.
Deadline reports that the duo has been tapped to tackle the script writing duties for the movie due in 2017. When the project was announced, they were on the shortlist to possibly direct—they're about to make their feature debut with the Vacation reboot—before the job ultimately went to Watts, whose Cop Car recently made the festival rounds and is getting ready for release.
Daley and Goldstein are mostly known for their comedy writing on movies like Horrible Bosses, The Incredible Burt Wonderstone, and Cloudy With a Chance of Meatballs 2. Peter Parker, better known by his superhero alter ego Spider-Man, is renowned for his sense of humor, wit, and bantering back and forth with his villainous foe. Especially with Ant-Man, reportedly the most comedic movie in the MCU thus far, just dropping, hiring guys primarily known for being funny and going this direction does seem too far off base. This could mean that Marvel is going for more of a comedy with some action sprinkled in for good measure.
It'll be interesting to see how Daley and Goldstein's approach meshes with Watts' aesthetic. He does have some comedy on his resume, directing and producing for satirical news outlet The Onion, but his last two films have been grim and serious in tone. Cop Car is a tense thriller about a police officer tormenting two kids who take his unattended cruiser for a joyride. Not a lot of laughs. Before that he helmed Clown, a twisted horror movie about a father who gets taken over by an evil clown suit and becomes a murderer. Again, not many jolly fun times, chortles, and guffaws to be found.
Though it is reportedly not another origin story (thank whatever god you believe in), Tom Holland's Peter Parker/Spider-Man is going to be young, still in high school and living with Aunt May (Marisa Tomei). The Wall Crawler's first standalone movie is scheduled for release on July 28, 2017, and while that's still a ways off, Marvel is certainly appears to be getting all of their ducks in a row. This should give Daley and Goldstein plenty of time to work.
Before he strikes out on his own, however, Spider-Man will show up next year in the superhero-studded Captain America: Civil War alongside countless other members of the MCU. We're not sure what his precise role will be in that movie, or how large it will be, but for his age alone, he'll provide an interesting contrast to his compatriots. And in the comics that serves as the source material for this arc, which sees heroes split into two factions and battling one another, Spidey has a big, dramatic moment that could come into play. We'll find out for sure when Civil War opens May 6, 2016
Your Daily Blend of Entertainment News
Thank you for signing up to CinemaBlend. You will receive a verification email shortly.
There was a problem. Please refresh the page and try again.