What The New Star Wars Trailer Will Actually Feature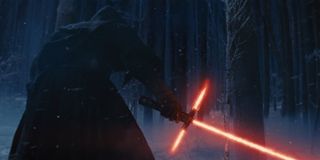 It's been a while since we saw anything official from Star Wars: The Force Awakens, as the first teaser trailer debuted all the way back in November - but we'll soon be getting more than we can handle. Not only is the first poster for the blockbuster said to drop at Star Wars Celebration later this month, but a new trailer full of footage is expected to drop very soon. In anticipation, new details on what we will allegedly see have been released online. So if you want to keep this present a secret until Christmas morning, look away!
MakingStarWars.net, a Star Wars site that broke news of the first Episode 7 trailer last year, has released a rundown of all the footage reportedly coming in the next trailer - and this one seems to include loads more character unveilings. While the first teaser featured only John Boyega as a Stormtrooper-suited Finn, Daisy Ridley's Rey on a speeder and Oscar Isaac's Poe Dameron piloting an X-Wing, the upcoming trailer will see Han Solo (Harrison Ford), Princess Leia (Carrie Fisher), R2-D2 (Kenny Baker), C-3PO (Anthony Daniels) and Captain Phasma (Gwendoline Christie). The Game of Thrones actress is said to play a Chrome Stormtrooper, concept art for which has been circulating the web for quite some time.
Some other characters reportedly popping up are the new droid BB-8 (the ball droid seen in the first trailer), a CGI character named Rose, and a masked Kylo Ren (the man with the cross-guard lightsaber). Unlike previous reports on the trailer's contents, though, there reportedly won't be any footage of Mark Hamill's Luke Skywalker, or Andy Serkis' still-unknown character. Earlier rumors also stated that an unidentified alien voiced by Oscar winner Lupita Nyong'o would both appear and narrate the new trailer, though there's no mention of her in this new description.
However, Making Star Wars states that there's a lot more action coming. In addition to new shots of X-Wings in battle and the Millennium Falcon, there will be more shots of TIE Fighters, Star Destroyers, Finn brandishing a blue lightsaber, the planet Yavin and Darth Vader's iconic helmet poised on a podium. Given all the secrecy and varying details surrounding the new Episode 7 trailer, we'll have to wait and see what ultimately made the cut. But these details are the latest to emerge.
Those attending Star Wars Celebration will be treated to far more interesting bits, including conversations with Star Wars spinoff directors Gareth Edwards (Star Wars: Rogue One) and Josh Trank. The festivities kick off on April 16, so keep your ears open for the latest updates.
Your Daily Blend of Entertainment News
Your Daily Blend of Entertainment News
Thank you for signing up to CinemaBlend. You will receive a verification email shortly.
There was a problem. Please refresh the page and try again.