Whether Anna Paquin Would Play Rogue Again After Being Cut From Last X-Men Movie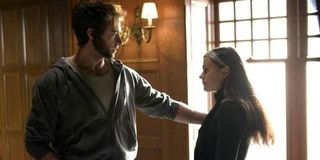 Having been cut out of X-Men: Days Of Future Past, Anna Paquin would be well within her rights to never work as a mutant ever again. But clearly the 33-year-old actress doesn't bare any grudges. In fact, her love for all things X-Men is still rather rampant, as Paquin admitted that she'd love to reprise her role as Rogue given the opportunity.
Anna Paquin insisted that the fact she has spent half of her life interacting with the X-Men crew, dating all the way back to the first instalment of the franchise back in 2000, means that she would love any opportunity to see them again.
It's always great to hear the cast and crew of a hugely popular franchise waxing lyrical about just how much fun they had while shooting. And since Anna Paquin basically admitted to IGN that she would even be a distant extra in a crowd scene in an X-Men film just to spend time with her cinematic brethren again it's safe to say that she adored her time working as Rogue. But what are the chances of us actually seeing Anna Paquin as Rogue again? Unfortunately, not great.
Even though our gateway into 2000's X-Men came through her character Marie D'Ancanto/Rogue, and she was still a firm fixture in X-2 and X-Men: The Last Stand, the series is now moving on to a new generation of mutants. That's why Paquin didn't star in X-Men: First Class, and it's also partly the reason why she was mostly cut out of X-Men: Days Of Future Past, too. Those of you who want to get a glimpse of Anna Paquin in Days Of Future Past can have a peek at one of her scenes, which was released as part of the film's Rogue Cut, below.
The X-Men franchise continues on without Anna Paquin though, with X-Men: Apocalypse finally being released into cinemas on May 27, 2016.
Your Daily Blend of Entertainment News
Your Daily Blend of Entertainment News
Thank you for signing up to CinemaBlend. You will receive a verification email shortly.
There was a problem. Please refresh the page and try again.