Which Comic Book Actor Played These 5 Roles Better?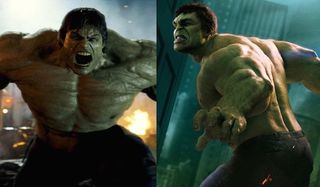 Although most comic book actors typically get to play their roles for as long as they're required, there have been exceptions. Whether they decide they've had enough of the character or found themselves replaced for some reason, old actors leave and new actors take over for the next theatrical installment, and despite looking different, they are, for all intents and purposes, the same character. So that poses a unique question: Who played the better version?
We picked the five biggest examples of casting changes in superhero movies and weighed which of the actors gave the better performance in their respective films. It's important to note that this list will not judge the differences in performances when it comes to reboots. So don't expect comparisons between Tobey Maguire and Andrew Garfield's Spider-Mans, Christopher Reeves and Henry Cavill's Supermans, etc. The focus will solely be on actors who played the same characters within the same continuity. Let's take a look!
Sabretooth
Tyler Mane: Sabretooth in 2000's X-Men was about as one-dimensional a character as you can find. His only job was to unleash his berserker rage whenever directed to by Magneto. When he wasn't doing that, he just stood around and remained mute, save for a few words. Sure, Mane nailed Sabretooth's ferocity, but that's all that was notable. There was nothing of substance with his Sabretooth. The script clearly wanted him to be nothing more than the Brotherhood's muscle.
Liev Schreiber: Taking aspects from the Origin miniseries, X-Men Origins: Wolverine gave audiences an earlier version of Sabretooth that was a much different beast…so to speak. Aside from having the same abilities and rage as Mane's version, there were barely any similarities between the two Sabretooths. Schreiber's version was intelligent, well-spoken, and had a feud with Wolverine that actually made sense. It was a major step up.
Conclusion: While Mane's Sabertooth certainly looked the part, it was Schreiber who nailed the role and then some. X-Men Origins: Wolverine has a lot of faults, but he was one of the few good things about that movie. His performance was nuanced enough that we're hoping that he'll return for Hugh Jackman's last hurrah as Logan in Wolverine 3 to give us more of the Sabretooth we deserve.
Batman
Michael Keaton: When the 1989 Batman film came out, the only previous live action iterations of the Caped Crusade were the actors that had played him in 1940s film serials and Adam West in the 1960s TV series. So Michael Keaton had free reign to make Batman his own, and he made quite an impression. He was aloof and likable as the public Bruce Wayne, but as Batman he was an intense force that was determined to rid Gotham City of crime. In Batman Returns, he was successful in making Batman even more of a badass while also adding layers of tragedy to the character. How's that for a comedy actor?
Val Kilmer: When Keaton decided not to do the third Batman film, Val Kilmer was recruited to take his place. While his Bruce Wayne was decent in Batman Forever, he didn't do much to distinguish his Batman from the previous incarnation of the billionaire playboy. Most of his lines were delivered in a monotonous tone, and his version didn't feel so much like Batman as a guy desperately wanting to be Batman. Franky, there simply wasn't anything notable about this iteration of a character.
Conclusion: While Batman Forever gets more hate than it probably deserves, there's no denying that Michael Keaton did a better job than Val Kilmer. Keaton was more intimidating as the Dark Knight while Kilmer was a weak successor that failed to impress most viewers. At least we can say they both did a better job than George Clooney.
Rachel Dawes
Katie Holmes: Aside from Catwoman and reporter Vicki Vale, Rachel Dawes is arguably Batman's most well known love interest, which is remarkable given that she wasn't from the comic books. Katie Holmes originated the character in Batman Begins, where most of her time was spent either critiquing Bruce Wayne for his behavior to sticking her nose into organized crime around Gotham City. While she wasn't a bad character, Holmes' performance just seemed a bit too…dry. There wasn't really anything special about it.
Maggie Gyllenhaal: Gyllenhaal succeeded Holmes for The Dark Knight, and though she didn't get as much screen time, she impressed, both as a prosecutor and a person. Her chemistry with Bale was better, and she and Harvey Dent made a remarkable couple for the short time they were together. She also seemed to have more attitude than her predecessor, which is helpful in a city where you can get hurt for just picking up a falafel.
Conclusion: Both actresses did a good job playing this original character, and Holmes did get to be in more action scenes. However, we have to give the edge to Gyllenhaal just for being more convincing as Rachel, though admittedly maybe this is because she was the version of Rachel that we associate with Bruce's loss in the latter half of The Dark Knight and The Dark Knight Rises. Regardless, Gyllenhaal gave the better performance overall.
War Machine
Terrence Howard: For his one Marvel movie stint, Terrence Howard did a good job playing Tony Stark's buddy James Rhodes, a.k.a. Rhodey. Even though Iron Man didn't delve into specifics of how they became friends, you could tell that these two are very close, and Howard's Rhodey had no qualms about calling Tony on when he screwed up. Unfortunately, because his screen time was cut during the final release, we didn't get to see as much of him as we wanted. Shame…
Don Cheadle: After Terrence Howard was let go from the MCU (we won't open that can of worms in this piece), Don Cheadle took his place. For the first half of Iron Man 2, Cheadle didn't feel like the Rhodey we'd met in the first movie, but fortunately that particular problem righted itself in the latter half (like when he and Tony argue about where they should be positioned when Vance's drones come). By Iron Man 3, the relationship felt like it was back to normal, and by the time we saw him in Avengers: Age of Ultron, it really felt like Cheadle's Rhodey wasn't just Tony's best bud, but also one of the Avengers gang. He made quite an impression.
Conclusion: This comparison would be a lot easier if Howard had been able to become War Machine. As it stands, Howard's dynamic with Tony Stark felt more genuine, but Cheadle has managed to win (almost) everyone over by now. Frankly, even if Howard had put on the War Machine armor, Cheadle's Rhodey just feels more heroic, and now it just feels right having him wear the suit. Also, maybe it's just me, but I feel like Cheadle's Rhodey is someone you'd have more fun grabbing a beer with than Howard's.
Bruce Banner
Edward Norton: The Incredible Hulk was the reintroduction of Marvel's Green Goliath to the big screen five years after Ang Lee's Hulk. Norton's performance was satisfactory, but it wasn't exceptional in any way. He does get kudos for capturing the split personality aspect of Bruce Banner and Hulk well (a.k.a. a modern day Jekyll and Hyde), but that's about it. During the whole movie it feels like Norton is just going through the motions and doesn't have his full heart in it. Norton was by no means awful, but he also didn't shine while wearing Banner's shoes.
Mark Ruffalo: There's no denying that Ruffalo's Hulk feels much different than Norton's. In fact, if it weren't for Tony Stark's appearance in The Incredible Hulk and Bruce Banner mentioning "breaking Harlem" in The Avengers, we'd wonder if they were from separate continuities. The fact is that Ruffalo's portrayal carried more emotional weight. Yes, he's realized that he can't change what's happened to him, but that still doesn't stop him from feeling the pain of living with a monster inside of him. It also helps that Ruffalo's Banner has adopted a lighter attitude about his condition, which is a refreshing change from the constant depression. Honestly, the character is more likable in the role when it's Ruffalo.
Conclusion: Keep in mind that this isn't analyzing which of their Hulks were better, but who delivered the better Bruce Banner performance. Even so, this is a tough decision, but we're going with Ruffalo on this one. He had a good grip on what makes Banner unique while also giving audiences a side of the character that hadn't been seen on film before. To put it simply, he was more versatile.
Connoisseur of Marvel, DC, Star Wars, John Wick, MonsterVerse and Doctor Who lore. He's aware he looks like Harry Potter and Clark Kent.
Your Daily Blend of Entertainment News
Thank you for signing up to CinemaBlend. You will receive a verification email shortly.
There was a problem. Please refresh the page and try again.