Wait, Is Sabretooth Coming Back For Wolverine 3?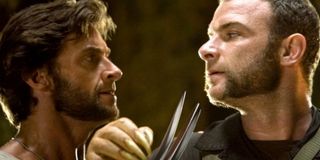 After Hugh Jackman teased that Sabretooth might appear in the third Wolverine movie, it seems as though Liev Schreiber has confirmed his return. The actor, who portrayed Victor Creed in X-Men Origins: Wolverine, posted a tweet in response to Jackman that makes us all think he's ready to suit up for his buddy's final stint as the adamantium-clawed mutant.
On Monday, Jackman tweeted a photo of himself getting into tip-top shape. Schreiber added fuel to the fires of speculation by responding with the following:
While Hugh Jackman didn't note why he's doing this routine, we can assume it's for Wolverine 3. He is starring in a movie coming out next December about the Ringling Bros. and Barnum & Bailey Circus origins, but it doesn't seem like he needs to be insanely chiseled for that. Another explanation is that he could be working out for a cameo appearance in Bryan Singer's X-Men: Apocalypse, after all. We all saw how vague that Comic-Con presentation was. Another more than likely reason for the intense workout is Wolverine 3, though, and Schreiber's reply adds even more "evidence" for us to throw on the pile.
Though it's not an official — or obvious — confirmation, it does raise some eyebrows, and Lord knows how these actors love to tease the fans. Just yesterday, we reported some statements Jackman made to the Sydney Confidential podcast that one of the things he kept hearing from fans about for the third Wolverine movie was the re-emergence of Victor Creed, aka Sabretooth. Though the character hasn't appeared in an X-Men movie since 2009 with Origins, he is Wolverine's most infamous archenemy. It would also be a nice touch to have the same man who co-starred in Jackman's first solo Wolverine movie to come back for his last.
Details on Wolverine 3, including the title, are still under wraps, but Jackman teased an adaptation of the Old Man Logan storyline during the San Diego Comic-Con presentations. This arc from the comics sees an older version of Logan as the last X-Man as he traverses a post-apocalyptic landscape. However, Jackman has been teasing that, in true Marvel movie style, one main comic book will be adapted with elements from others sprinkled throughout. Patrick Stewart, who originated the role of Professor Xavier and reprised it for Days of Future Past, confirmed that he'll also feature in Wolverine 3. James Mangold returns following The Wolverine to direct Jackman in the film, while Michael Green is on script duty.
Wolverine 3 will is scheduled for theaters on March 3, 2017, and production will begin in early 2016.
Your Daily Blend of Entertainment News