Yes! War Machine Joins The Battle In Latest Avengers: Age Of Ultron Clip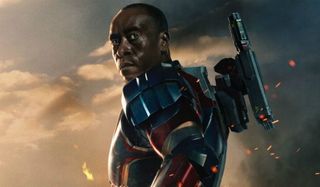 We've seen Black Widow kick some serious A.I. ass, we've seen Scarlet Witch and Quicksilver deliver some "age of miracles" realness, and we've seen Captain America fling a motorcycle at at a bunch of baddies. Now it's time for War Machine to enter the fray, thanks to a new TV spot for Avengers: Age of Ultron.
In true Marvel fashion, the studio has been releasing trailer after TV spot after clip after featurette from Age of Ultron, but there's still way more to be seen. Aside from the core group of superheroes, we will also see the likes of Falcon (Anthony Mackie), Peggy Carter (Hayley Atwell), Heimdall (Idris Elba), Loki (Tom Hiddleston), and War Machine (Don Cheadle) at one point or another. But of all of these, it looks like War Machine has the bigger part.
After seeing him party with the Avengers in Avengers Tower, we now see him flying high in the new Age of Ultron TV spot. The 30-second commercial shows two scenes of Iron Man's battle buddy in action. The first sees him jetting in to smash one of Ultron's minions to fiery bits, while the other has him getting a little bit too gun happy. This is all, presumably, while the more intense action is happening on the ground. In the background we also see a glimpse of a S.H.I.E.L.D. helicarrier, where we assume Cobie Smulders' Maria Hill or some other backup unit is waiting to whisk the Avengers out of harms way.
We're eager to see how War Machine fits into the plot of Age of Ultron. It's a new world since the events of Iron Man 3, Thor 2, and Captain America 2. Stark is tired of fighting, the Asgardian prince has been living on Earth for some time, and Cap unmasked the Hydra leeches living within S.H.I.E.L.D. Since Rhodey is seen in that Avengers Tower party scene, we can assume he's been working close with Earth's Mightiest Heroes in some capacity in the time between films.
It's still unconfirmed whether War Machine will have a greater role to play in the cinematic universe moving forward. However, JoBlo reports that he will also appear in Captain America: Civil War alongside the growing cast of Captain America, Iron Man, Black Widow, Hawkeye, The Winter Soldier, (presumably) the new Spider-Man, Black Panther, Crossbones, and more.
Your Daily Blend of Entertainment News
Your Daily Blend of Entertainment News
Thank you for signing up to CinemaBlend. You will receive a verification email shortly.
There was a problem. Please refresh the page and try again.