Al Pacino Might Seriously Be In Guardians Of The Galaxy 2, Here's The Evidence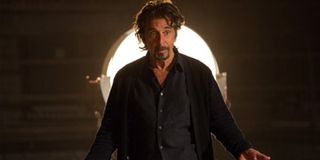 It appears that rumors suggesting that iconic actor, Al Pacino was close to nabbing a role in Marvel Studios' superhero universe just got real interesting. Just a few months on the heels of the revelation that Pacino did, in fact, have a talk with studio President, Kevin Feige, it looks as if director of Guardians of the Galaxy, James Gunn dropped a contextually groundbreaking answer to a fan's question on Twitter. From the way it sounds, all those nice things Pacino has been saying about Guardians are mutual as far as Gunn is concerned.
Fielding a fan's question regarding which actor he'd like to work with, Gunn would take what seems to be the regular, innocuous kind of question a fan might ask a big-name director and decided to use it as opportunity get those rumor mills churning regarding the Pacino/MCU issue.
As some may be aware, Al Pacino really liked Guardians of the Galaxy. I mean, he really, REALLY liked the film. The actor allegedly took his young children to see the film, not expecting much more than typical CGI-ridden Ritalin for the kids, but he was surprised how much the film left him enthralled. Ever since then, he has made a number of comments about the film, complimenting it extensively, which started making the news cycles. It was immediately assumed that Pacino might be circling a role in the Marvel Cinematic Universe; likely for the Guardians sequel. As the actor told Deadline last September,
Pacino would qualify his contented critique by expressing his desire to know where he could potentially fit in the MCU picture, especially given his age and vastly dramatic repertoire.
However, as strong as his enthusiasm as a fan has been for Guardians, the idea of his potential involvement in a Marvel project had mostly seemed rather wishy-washy. At least, it did, until the aforementioned news about Pacino's meeting with Feige, after which Pacino even went so far to say, "I'm ready to go to Marvel." Yet, Pacino would not elaborate any further on the matter.
Now, by virtue of one simple instance of name-dropping in a tweet, Guardians director, James Gunn has seemingly confirmed that Pacino's involvement is quite possible, nay somewhat likely. Thus, the speculation about which roles might suit the legendary actor is likely to resume. Certainly, the idea that Pacino could be the long-lost in space father of Christ Pratt's Star-Lord is not outside the realm of possibility. However, that role might call for someone spryer and more comedically in tune with Prattt than the 74-year-old Pacino. However, there are still several compelling possibilities for Pacino, especially given the fact that Guardians is the broadest film series in the MCU, character-wise.
I suppose we'll have to wait and see if the Guardians of the Galaxy sequel will give the former Scarface star a great big role just waiting to get plucked upon its scheduled release at theaters on May 5, 2017.
Your Daily Blend of Entertainment News
Thank you for signing up to CinemaBlend. You will receive a verification email shortly.
There was a problem. Please refresh the page and try again.