Bradley Cooper Wants Robert De Niro To Join Him For His Directorial Debut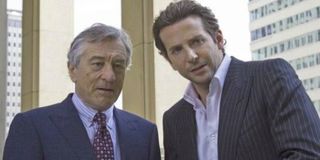 Bradley Cooper has apparently been on the look for the perfect script that he can then turn into his directorial debut, and not only has he now picked out a screenplay, but he has also lined up Robert De Niro to star.
According to Deadline, Bradley Cooper is pining to oversee the production of Honeymoon With Harry, which he will make with the folks at New Line. Honeymoon With Harry is currently being re-written by Dan Fogelman after a decade in development. Originally, the studio wanted the comedy to simply star Bradley Cooper with Robert De Niro, and the two have been linked to the project since 2010. Since then, they have had the chance to work together on Limitless, Silver Linings Playbook and American Hustle , and New Line believes that reuniting the duo could lead to another big success. As of last week there was no official deal in place with either Robert De Niro or Bradley Cooper for Honeymoon With Harry, however, they are both actively searching for a project to work on together again and are also mightily impressed with the premise and potential of this project.
Honeymoon With Harry revolves around an alcoholic, self-centered, womanizer who, after falling in love, decides to drastically alter his ways. That character would be played Bradley Cooper, and it's easy to see how the American Sniper actor might certainly bring his charming-yet-damaged on-screen persona to such an individual with ease. The conflict of the movie begins because the protagonist's girlfriend's dad (De Niro) instantly takes a dislike to his potential son-in-law. That's because he sees himself in the man. After the couple becomes engaged, tragedy strikes when she dies just before their wedding. The groom then decides to go on the honeymoon anyway to drink himself to death. When he arrives at the honeymoon destination, though, he is surprised to bump into his almost father-in-law, who is there to spread his daughter's ashes at her dream location.
Their previous films together suggest that Bradley Cooper and Robert De Niro should flourish in these roles, and one can imagine that they will get the chance to once the prolific Dan Fogelman finishes working on his Honeymoon With Harry re-write. Since 2006's Cars, Fogelman has been behind titles like Bolt, Tangled, Cars 2, Crazy, Stupid, Love, The Guilt Trip and Last Vegas, suggesting that he knows a thing or two about how to prepare a script that will get studios interested in moving projects forward.
But is Bradley Cooper a good choice to direct? Obviously we don't know since he's never directed a film before, but he has shown a good deal of ambition. He's produced a number of his own movies since the release of Limitless, including Silver Linings Playbook, American Hustle, and American Sniper. Plus, he has worked with some of the greatest directors of the modern era thanks to collaborations with Clint Eastwood and David O. Russell. Surely he must have learned a thing or two from them along the way. That being said, jumping behind the camera with the wrong project can be suicide for an actor looking to become a director, so Cooper should think long and hard before he officially decides to direct Honeymoon With Harry. More power to him if he does end up directing it, though.
Your Daily Blend of Entertainment News
Thank you for signing up to CinemaBlend. You will receive a verification email shortly.
There was a problem. Please refresh the page and try again.