Why Argo Deserved To Win Best Picture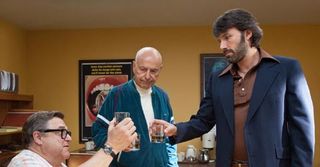 For the two weeks leading up to the Oscars we ran a piece every day arguing why certain films deserved to win Best Picture. You can catch up with the entire series here. Now that Argo is the big winner, we're bringing back Eric's piece singing its praises and celebrating its much-deserved win.
My favorite shot in Ben Affleck's Argo isn't during the nail-biting, armchair-gripping finale at the Iranian airport or the heart-palpitating opening sequence with the rioters attacking the U.S. embassy. It's an establishing shot less than 30 minutes into the film that shows the famed Hollywood sign as protagonist Tony Mendez arrives in Los Angeles. Rather than being a conventional shot that you see in any L.A. based film, however, most of the letters are ripped away or falling apart. As I sat in the theater I remember thinking to myself, "I had no idea that the Hollywood sign had ever been destroyed like that. What a cool detail!"
But what's interesting is that while the Hollywood sign was indeed at one time dilapidated as shown in the film, it wasn't that way in 1980 as depicted. In actuality, the landmark had been restored in time for Hollywood's 75th anniversary in 1978.
So how did I react when I learned the truth? Was I irritated that Affleck would get a stupid little detail so factually inaccurate? Did I start to think of it as a goof on the part of the filmmakers who didn't even bother going to the sign's Wikipedia page? Not at all. I continued to think that it was the coolest shot in the movie and loved that the director had chosen to include it.
Argo isn't a documentary; it's a historical drama. The opening sequence features a title card that reads "Based on a True Story" – which is entirely accurate – but the film makes no promises about having every little fact straight or being a perfect recreation of the events. Affleck made this movie as a piece of entertainment; he wanted to tell the fascinating story of how a fake movie production saved six hostages stuck during the Iranian Revolution. Not only was this accomplished in extraordinary fashion, it deserves to be rewarded Best Picture at the 85th Academy Awards.
Truth is not as important as good storytelling, and that's what the feature film industry is about. Ever since Argo hit theaters back in October rival studios in the Oscar race and curious journalists have worked to research what actually happened back during the real hostage crisis and criticize the movie for slanting certain elements and misrepresenting others. The Hollywood sign was inaccurate, nothing like the scene in Tehran's Grand Bazaar actually happened, and the chase on the runway was entirely fictionalized, but why does that matter? What matters is that it respects the spirit of the reality while also being worth paying $10 to see.
Disregarding strict truth in sacrifice of entertainment doesn't merit a Best Picture award, but what does is pulling it off so spectacularly well. Screenwriter Chris Terrio's script works on all levels and brilliantly pairs with the actor cum director's style and ability to balance both the comedic and deadly serious tones. Despite the fact that you know the story has a happy ending, the film takes the audience on one hell of ride to get there, filled with thrills, laughs, high tension and sex jokes. It has all of the class of an Academy Award nominee packaged as a film that could have just as easily played during the summer months as it did in Oscar season.
Argo does have curious opponents this year with both Steven Spielberg's Lincoln and Kathryn Bigelow's Zero Dark Thirty also nominated. It's a crowded field for real-world political dramas, but it's Affleck's film's willingness to bend the truth that sets it apart. While the competition does a great job of representing important historical events – the ratification of the 13th amendment and the hunt for Osama bin Laden – even their greatest supporters will admit that their material is quite a bit drier than Affleck's film, a movie that created a catchphrase out of "Argo fuck yourself." We're only two years removed from the Academy giving its top award to the straightforward The King's Speech – can't this year reward something different?
Your Daily Blend of Entertainment News
Assistant Managing Editor
NJ native who calls LA home and lives in a Dreamatorium. A decade-plus CinemaBlend veteran who is endlessly enthusiastic about the career he's dreamt of since seventh grade.