Why Audiences Won't Get Tired Of Superhero Movies, According To Jon Favreau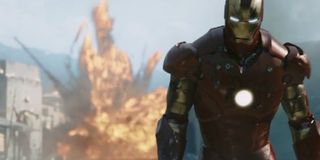 We cannot understate the importance of Jon Favreau's contribution to the cinematic superhero genre. His work on the original Iron Man back in 2008 launched the Marvel Cinematic Universe and proved that a cohesive series of interwoven franchises populated by comic book heroes can become big business. While some people think that the MCU is part of a superhero bubble that's destined to burst, Favreau has a much more optimistic outlook for the future of the genre. In his eyes, movies like Guardians of the Galaxy prove that the genre could go on indefinitely.
During a recent interview at a THR event in Los Angeles, Favreau opened up about the success of The Jungle Book, as well as the immense gamble Marvel made on the first Iron Man movie. In his answer he explained that he does not think audiences will tire of seeing silver screen superheroes any time soon. Citing James Gunn's work on Guardians of the Galaxy, he rationalized that the genre is essentially malleable enough to experience incredible longevity as long as filmmakers have the willingness to take chances with these types of characters. As he puts it, if that's what qualifies as a superhero movie, then the genre will continue to stand on firm ground for quite some time.
He has a serious point. Although Guardians of the Galaxy is based upon characters that originated in the world of comic books, it doesn't exactly feel like a superhero movie. James Gunn's work on the first Guardians movie has all of the bravado and "swagger" of a confident indie movie, combined with the feeling of a 1980s Steven Spielberg blockbuster. That's what audiences loved about it, and that appears to be the key to continued success within this genre.
This is a sentiment that many people have echoed in recent years. Time and time again, filmmakers have shown that the best superhero movies don't really fall purely into the "superhero genre." Captain America: The Winter Soldier worked because it was a political thriller that happened to be populated by superheroes, while Christopher Nolan's The Dark Knight succeeded because it was a crime film at its core. If filmmakers keep applying this technique to comic book characters and tell great stories that happen to involve superheroes, then there's no logical reason why audiences would tire of these characters.
What are your thoughts on the matter? Will superhero movies always be this popular, or will the genre eventually begin to show signs of fatigue? If you haven't checked out Jon Favreau's latest blockbuster, The Jungle Book, be sure to check it out in theaters as soon as possible. As for the superhero universe he helped create, you can catch Marvel Studios' next major adventure when Captain America: Civil War blasts its way into theaters on May 6.
Originally from Connecticut, Conner grew up in San Diego and graduated from Chapman University in 2014. He now lives in Los Angeles working in and around the entertainment industry and can mostly be found binging horror movies and chugging coffee.
Your Daily Blend of Entertainment News
Thank you for signing up to CinemaBlend. You will receive a verification email shortly.
There was a problem. Please refresh the page and try again.