Why Back To The Future Will Never Be Remade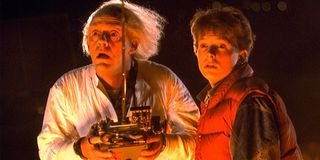 As a beloved and successful film franchise from the 1980's, there is little doubt that Back to the Future has been sized up on more than one occasion for the reboot treatment. However, when it comes to a potential adaptation of his signature work, director Robert Zemeckis is essentially telling Hollywood, "Get your damn hands off her!"
Speaking with The Telegraph, Zemeckis, the directorial and co-writing visionary of the time-twisting misadventures of the Back to the Future films, is adamant in his stance against a potential remake/reboot attempt from an idea-starved industry. Fortunately for Zemeckis, he and co-writer, Bob Gale, are legally in control of the property. According to Zemeckis:
Clearly, Zemeckis' purist approach to his franchise is a sentiment that is shared with a growing element of the movie-going populace that are jaded towards the remake/reboot culture of Hollywood that gleans ideas from old playbooks, often adding very little in the process. However, for some franchises, the idea, when properly executed, can yield tremendous results, as exemplified by the current $1.2 billion global box-office supremacy of long-in-the-making franchise follow-up, Jurassic World. While that film was a sequel of sorts, rather than a reboot, it nevertheless remains true for Hollywood executives that concepts known as "pre-sold titles" are statistically a safe financial bet.
Zemeckis is clearly worried that Back to the Future will always be circled by the carrion birds of opportunistic executives after he and Gale have exited this mortal coil. While a reboot is clearly out of the question while Zemeckis or Gale still draw breath, the idea of a belated sequel, similar to the aforementioned Jurassic World, is also a no go, seeing as Zemeckis has been vocally opposed to revisiting the franchise without star Michael J. Fox, whose battle with Parkinson's Disease would render a demanding feature film return rather unfeasible. At a 2008 Florida convention, he colorfully described such a venture without Fox as cooking a steak dinner only to "hold the beef."
While the Back to the Future trilogy is currently safe from Hollywood's reboot patrol, there is an especially poignant bit of nostalgia surrounding the property with the impending 30th anniversary of the July 3, 1985 release of the original film, which went on to 11 (non-successive) weeks on top of the box office charts, essentially dominating the summer of 1985. At least, for now anyway, the integrity of those films will remain intact and even the power of 1.21 gigawatts surging into the DeLorean will not be enough for Hollywood to hearken back to the fictional, shallow-gene-pool town of Hill Valley, California anytime soon.
In the meantime, Robert Zemeckis' upcoming directorial effort, The Walk, starring Joseph Gordon-Levitt as French daredevil Philippe Petit, walks the tightrope in theaters on September 30.
Your Daily Blend of Entertainment News