How Star Wars Forced Ridley Scott To Make Alien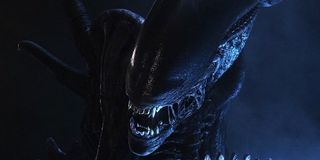 Making movies is a tough business, but it's also an artistic endeavor, and, like most such enterprises, inspiration plays an important part in the process. As filmmakers tend to be people who love movies, they also find motivation in the work of others, and Ridley Scott just revealed how Star Wars compelled him to make Alien.
Talking to Deadline at the Toronto International Film Festival, where he is hyping his latest space odyssey, The Martian, Scott talked about the first time he saw Star Wars and the transformative impression it left on him. He said:
Tristan and Isolde, an adaptation of the classic fable of love and tragedy, was supposed to be Scott's next film, his follow up to the Cannes prize winning The Duelists. However, after watching what George Lucas did with his epic space opera, when someone handed Scott a sci-fi script, it was on, and the world is a much better place for having Alien in it.
Ridley Scott's 1979 film still stands as one of the greatest science fiction films of all time. While he was inspired by the likes of Star Wars, and Stanley Kubrick's 2001: A Spacy Odyssey, he left his own indelible stamp on the genre that is every bit as influential as those films. (Okay, perhaps not quite, Star Wars is on a level all its own, but Alien's influence and unique stamp is one that can also be found in damn near every sci-fi movie that hits the screen.)
Scott calls Star Wars "seminal" and "creatively brilliant," but it was a kind of chance encounter that led him to the theater that day. A friend had an extra ticket to a 2:00pm screening of the film, and after witnessing the audience's engrossment and reaction, he walked out of the theater knowing that he had to find something besides Tristan and Isolde to do next.
Landing Alien wasn't as easy as all that, however, as he says he was far down the line as far as the studio's directors wish list was concerned—they apparently even offered the film to Robert Altman at one point, which would have been bizarre beyond belief. Fortunately, the film wound up in Ridley Scott's capable hands, and the result speaks for itself.
Your Daily Blend of Entertainment News