Why Brad Pitt And Shia LaBeouf Punched Each Other While Filming Fury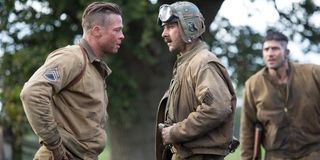 It's easy for people to assume that they hate Shia LaBeouf. The tabloid revelations over the last few months surrounding his private life, including getting arrested and being accused of plagiarism, have left a sour taste. But during a recent appearance on The Jimmy Kimmel Show the actor reminded the world that he's not such a bad guy after all. Plus he also found time to explain why he punched Brad Pitt during the shoot for his upcoming war-drama, Fury.
Shia LaBeouf, who admitted that alongside the rest of the cast he vied for Brad Pitt's attention on a daily basis, made the revelation during a discussion about his adulation for the huge movie star. It came around as he decided to correct a point that had been made by Michael Pena, who also stars in Fury and was a guest on the talk show last week.
It was at this point that Jimmy Kimmel reminded his audience and people at home that Fury's director, David Ayer, had actually instructed his cast to have fist fights on-set every day. While Kimmel was a tad perturbed by this, Shia LaBeouf admitted that it actually worked wonders, and it allowed himself, Brad Pitt, Michael Pena, Logan Lerman, and Jon Bernthal to bond.
When he was then asked if it ever went too far, Shia LaBeouf insisted that they all "love each other" and that even though they'd get mad, the tension "died" as soon as they left. I have to admit that it sounds like a pretty unique way to rally up a posse of actors, but it clearly did the trick because there definitely seems to be a wordless patter and camaraderie between the hugely talented ensemble, which you can pick up on just from the trailer. You can check out Shia LaBeouf's interview with Jimmy Kimmel below. It's good to see the Transformers star reminding viewers that he does actually have an idiosyncratic and bouncy personality that lends itself perfectly to the big-screen, but also clearly gets him in trouble from time to time though.
Fury, which depicts the last month of the allied invasion of Europe during World War II in April 1945, is finally released at the end of the week and early reviews have been generally positive.
Your Daily Blend of Entertainment News