Carol Trailer: Watch Cate Blanchett Seduce Rooney Mara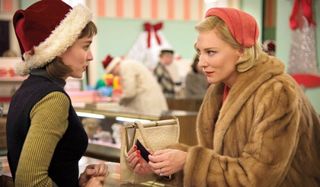 As hinted in the new Carol trailer, Cate Blanchett might have another Oscar nomination — and win — on her hands. After portraying the elegantly disturbed Jasmine in Woody Allen's Blue Jasmine, which won her the Best Actress Oscar, Blanchett plays a married woman of the 1950s who risks everything to be with the woman she loves. Watch the trailer below.
Rooney Mara plays the other woman, named Therese Belivet. The Manhattan-based department store worker is dating a man whom she does not love nor does she want to have sex with, but on a dull day while working in the toy section, she becomes enthralled by a female customer named Carol. The two strike up a relationship that eventually leads to a love affair. Interesting to note is that the film's director, Todd Haynes, helmed a similarly themed work; Far From Heaven starred Julianne Moore as a '50s-era Connecticut housewife who discovers her husband has been leading a closeted life as a gay man. That film earned Moore an Oscar nomination, so perhaps Carol will do the same for Blanchette and Mara, as well.
This Carol trailer may be brief, but it captures the elegance and grace of the '50s, though its footage is tinged with sadness. Accompanied by "My Foolish Heart," first performed by Martha Mears in the 1949 film of the same name, the trailer is able to capture the quiet struggle of those forced to live in the closet for fear of oppression, ostracism, and the threat of their lives ruined.
The film is based on the book The Price of Salt, which was published in 1952. Author Patricia Highsmith used the pseudonym Claire Morgan at the time, due to the book's lesbian romance depiction. In the afterword of the 2004 reprint, Highsmith wrote how she came about the idea for the book in 1948. She was living in New York and had just finished writing Strangers on a Train, though it wouldn't be published until 1949. She worked as a temporary sales clerk selling dolls at a department store before Christmas. The character of Carol was inspired by a blonde woman she saw shopping in a fur coat, and she completed the outline for the novel in two hours. Highsmith used her own romance with her former lover, a Philadelphia socialite who lost custody of her child in divorce proceedings, as inspiration for her characters' affair.
Carol premiered earlier this year at the Cannes Film Festival. Variety's Justin Chang called it "an exquisitely drawn, deeply felt love story," while Mashable's Jordan Hoffman, Austin American-Statesman's Charles Ealy and The Times' Wendy Ide are among those who praised Blanchett's "effortlessly chic" and "absolutely flooring" performance.
Carol hits theaters on November 20, perfectly positioned for awards attention.
Your Daily Blend of Entertainment News
Thank you for signing up to CinemaBlend. You will receive a verification email shortly.
There was a problem. Please refresh the page and try again.