10 Big Things The Golden Globes Told Us About The Oscar Race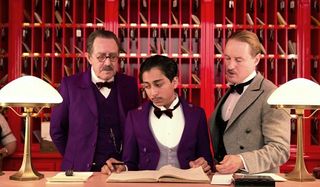 The members of the Hollywood Foreign Press Association do not vote for the Academy Awards. But that doesn't mean that the movies and talent they single out – and the momentum created by both the Golden Globes and subsequent awards groups – doesn't help (or hinder) an Oscar campaign as the season drags on and on. Scanning today's list of Golden Globes nominees, you can see trends continue to develop as we maneuver our way through this year's active Oscar field. The Golden Globes nominations tell us a lot about where certain pictures fall as the awards season starts to shift into a higher gear.
What do we think we know about several ongoing Oscar campaigns in the wake of this morning's Golden Globes nominations? Let's go over some of the juicier points.
Angelina Jolie's Unbroken took a hit
On paper, Angelina Jolie's biopic on former Olympian and World War II hero Louis Zamperini looks like awards bait. You have an A-list actress behind the camera, tackling Oscar-tailored historical material, with a wealth of talent in all the skill positions. But Unbroken was completely shut out this morning, earning zero Golden Globes nominations. When you factor in the HFPA's tendency to nominate films just to get A-list stars to their show (ahem, like they did with Jolie's The Tourist), this omission sends a loud message about the awards fates of Unbroken. Could it still get Oscar noms? Of course, but this morning didn't help.
Jake Gyllenhaal is a legit Oscar contender
Those of us who adore Nightcrawler and have been praising Jake Gyllenhaal's transformation in that role started to get our hopes up after the Screen Actors Guild recognized the actor in this part. Now that the Golden Globes have thrown their weight behind Gyllenhall, as well, it's safe to start assuming he has a beat on the coveted fifth Best Actor slot that isn't already occupied by the likes of Michael Keaton, Benedict Cumberbatch, Eddie Redmayne and Steve Carell. If there's a spoiler, it's Selma star David Oyelowo, which brings us to…
Selma got the boost it was looking for
Ava DuVernay's Civil Rights drama is just now starting to screen for larger groups. Paramount confirmed to me that SAG didn't get screeners of the film, which explains why Selma was shut out of the SAG Awards. A similar goose egg from the Globes would have hurt this outstanding film's Oscar chances. But with multiple Golden Globe noms – including Actor, Director and Picture – the movie is right back in the thick of the Oscar conversation… where it should be.
Jennifer Aniston also is a legit Oscar contender
Another day, another group that recognizes Jennifer Aniston's compelling turn at the head of Daniel Barnz's Cake. The drama made few waves on the fall film festival circuit, but is finding new life on the campaign trail. In a year that sees a surprisingly thick field for Best Actress candidates, the love shown to Aniston by both SAG and the Golden Globes can help propel her through the final phase of Oscar glad-handing until the nominations roll in. Then, she can begin to chip away at the lead currently enjoyed by Reese Witherspoon (Wild) and Julianne Moore (Still Alice).
Foxcatcher finally is gaining some necessary steam
Bennett Miller's heavy drama always was picking up notice is select categories – namely Actor, where Steve Carell is being honored for his disturbing transformation. But regional and national critics groups have been overlooking the movie, as a whole, in favor of Boyhood, Birdman and others. Today, the Globes put a focus right back on Miller's masterpiece, giving it a well-deserved Best Motion Picture nod, and finding room for Carell and Mark Ruffalo. A Director nod would have solidified Foxcatcher's Oscar dreams, but I'm sure Sony Pictures Classics feels a lot better this morning than they have in recent weeks.
Ava DuVernay might make history
Only four women have been nominated in Oscar's Best Director category. Only one – Kathryn Bigelow – has won the award (for The Hurt Locker). Ava DuVernay has a real shot at joining that illustrious list. Selma is that good, and the Golden Globes nom bolstered her chances. Like all categories this year, we are blessed with an abundance of talent, and there are going to be some gifted people on the outside of the bubble. But based on the results this morning (and the buzz around Selma), I'm thinking DuVernay will become the first African-American woman to crack the Best Director field at the Academy Awards.
The Best Actor race solidified
It is this year's most unpredictable category, primarily because it feels like there are 15 candidates vying for five slots. But we are beginning to hear the same names over and over – and now it looks like we know pretty well who our Oscar contenders will be. Almost every group is recognizing Eddie Redmayne, Benedict Cumberbatch, Steve Carell and Michael Keaton. Jake Gyllenhaal recently picked up a handful of important noms. If anyone can stay in the race, it's David Oyelowo. But I think hopefuls like Oscar Isaac, Bradley Cooper, Bill Murray, Ben Affleck and Chadwick Boseman are going to have to accept the fact that it's too crowded a year to make room for everyone.
The Grand Budapest Hotel is stronger than we thought
Too often, movies that come out early in the year are forgotten by the time awards groups release their nominations. But over the past few days – and continuing with the Globes – Wes Anderson's The Grand Budapest Hotel continues to receive the love. Anderson got a surprising (but deserved) Director nom. The movie broke into the Comedy or Musical top slot, with Ralph Fiennes gaining a nod, as well. Because we don't know how many Best Picture slots Oscar will have this year, I'd say Hotel has a better-than-expected chance at surprising people on Oscar morning.
Robert Duvall has a real shot for The Judge
He won't win the category. Right now, Best Supporting Actor at the Oscars should be JK Simmons' trophy to lose. And he won't lose it. But at the very least, Robert Duvall's Golden Globes nomination – following his SAG nomination in the same category – means many of us will be dusting off our screener copies of The Judge for a repeat viewing this weekend.
Boyhood remains this year's frontrunner
Only an omission on the part of the Golden Globes could have hurt the momentum Richard Linklater's Boyhood has established all season. Instead, the director's sprawling opus picked up nominations in all of the key categories, including Director, Picture, Supporting Actor, Supporting Actress and Screenplay. Boyhood is in an incredible position as we head into the final stretch before Oscar nominations. There are certain categories that it has on lock, and others where it can continue to gain ground. But the main takeaway from this morning is that Boyhood didn't LOSE any ground due to the Globes, so it remains the movie to beat at the moment.
Managing Director at CinemaBlend. ReelBlend cohost. A movie junkie who's Infatuated with comic-book films. Helped get the Snyder Cut released, then wrote a book about it.