Why Deadpool Is Going To Be The Scuzziest Superhero Yet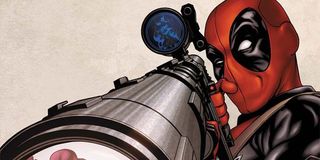 While Wade Wilson's film debut in X-Men Origins: Wolverine was tame (and unfaithful to his background), the same can't be said for his return in Deadpool next year. As one of the few comic book movies to be rated R, the Merc With The Mouth's spinoff isn't holding back on the grittiness and violence commonly seen in the Deadpool comics (creator Rob Liefeld compared the film to a Quentin Tarantino project), and in order to pull off the right tone, director Tim Miller cites a well-known David Fincher film for inspiration.
In an interview with EW, Miller, who designed the opening credits for Fincher's 2011 film The Girl with the Dragon Tattoo, compared Deadpool's various environments with 1998's Fight Club and its most famous character. Said Miller:
Producer Simon Kinberg also assured fans that nothing in Deadpool is taboo, saying they committed to it being a "truly outrageous boundary-pushing kind of movie." As action-packed and intense as the previous X-Men films have been, Miller has a point. While they've fought in places like underground bunkers, laboratories, and even a post-apocalyptic wasteland, other than the occasional bar, none of these environments have had that seedy feel. Deadpool, on the other hand, is going to travel to the most low-rent, run-down environments accessible. However, since Deadpool takes place in the same universe as the X-Men films, maybe someday we will see him in shiny accommodations…which he would destroy in minutes. It's why he can't have nice things.
Deadpool's ambience may be similar to Fight Club, but violence wise, the insane mercenary doesn't follow any rules. While in Fight Club the fights must cease when someone says "stop" or goes limp, Deadpool is going to relentlessly beat, slice, and shoot his enemies until they're dead or eating their meals through a straw. His main target will be the man who "nearly destroyed his life," and presumably he'll also be getting into a fight with Ajax given their relationship in the comics. Although a trailer hasn't been released yet, we got a glimpse of how ruthless this Deadpool will be when he "killed" Mario Lopez on April 1st simply because the Extra host cited the advantages of a film being rated PG-13 instead of R. That's the Deadpool we know and love. Still, it's probbaly best to run for cover if he's anywhere in your field of vision.
You can see Deadpool in action when his film hits theaters on February 12, 2016.
Connoisseur of Marvel, DC, Star Wars, John Wick, MonsterVerse and Doctor Who lore. He's aware he looks like Harry Potter and Clark Kent.
Your Daily Blend of Entertainment News
Thank you for signing up to CinemaBlend. You will receive a verification email shortly.
There was a problem. Please refresh the page and try again.