X-Men: Apocalypse Could Change The History Of The X-Men Universe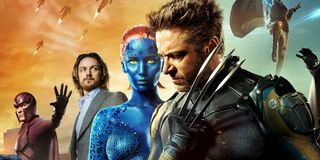 In the past weeks more and more mutants have joined the cast of the upcoming X-Men: Apocalypse film and we couldn't be more excited. But, what the state of these mutants will be and where the story will take them is still somewhat of a mystery. The film has one of the biggest ensembles we've seen in an X-Men film, so the anticipation grows. But what will this movie mean for the X-Men universe? Well, according to writer/producer Simon Kinberg, it is going to change the history of the X-Men Cinematic Universe forever.
Those are quite the words coming from the self-proclaimed fanboy, especially since it could easily be argued that X-Men: Days of Future Past already completed that mission. But, in his interview with IGN Kinberg claims that Apocalypse will have as much of an impact as Days of Future Past did, and will affect the X-Men movies that follow.
What will this aftermath be exactly? Well the easy answer would be located right in the title. The titular villain will be playing a key role in the final outcome, and we also know that the film will serve as a final chapter in the First Class trilogy, completing the stories of our younger protagonists. But, while Apocalypse closes one story, it will directly affect those to come, specifically Gambit and Deadpool. We knew these two mutants would correlate with the X-Men universe, but now Kinberg has given us more clues at just how closely they will come together. He told IGN that "things that happen in one film are acknowledged by the other movies". The outcome of Apocalypse will play a part in these two stories.
We have yet to experience just how substantial this chapter in the X-Men universe will be, but its set up for the films to come puts it in the spotlight, for sure. We've already been teased with a growing number of mutants added to the Deadpool roster, so we can expect that Gambit will give us even more connections to the X-Men universe as well. X-Men: Apocalypse will hit theaters May 27, 2016 and is expected to be one of the biggest movies of the year. From the sound of it, this film will play a vital role in the future mutant movies to come, so we're waiting at the edge of our seats to take a peek.
Your Daily Blend of Entertainment News
Your Daily Blend of Entertainment News
Thank you for signing up to CinemaBlend. You will receive a verification email shortly.
There was a problem. Please refresh the page and try again.