Why Ewan McGregor Hates Star Wars' New Lightsaber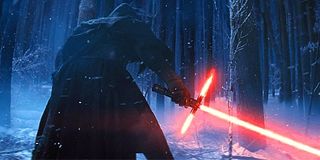 When a beloved franchise gets a new installment or update, it's not unusual for fans to get flustered about changes, alterations, or new additions. However, I don't know if anyone expected the sheer level of outrage and discussion generated by that new lightsaber that popped up briefly in the first trailer for Star Wars: The Force Awakens. Many have sounded off on the topic, and now former Jedi Knight Ewan McGregor has chimed in, stating why he is not a fan of this new design.
Thompson on Hollywood caught up with the 44-year-old actor at the Edinburgh International Film Festival, where he's supporting his Last Days in the Desert, where McGregor plays Jesus. When asked about The Force Awakens, while he said that J.J. Abrams captures the feel of the franchise in the first trailer, he added:
This isn't the first time that McGregor has expressed his disdain for the new Jedi accessory. Talking to MTV earlier this year at the Sundance Film Festival, he said:
There have been a number of issues pointed out with this new design, including that the additions could be potentially hazardous to the wielder, or that your opponent's lightsaber could simply slice through the emitters that send out the little side pieces. Lightsabers have always been portrayed as a civilized, elegant weapon, the tool of a precise, highly skilled warrior. This new weapon has the look and feel of a blunt instrument, like a broadsword compared to a rapier, which certainly ties into McGregor's argument about the ability of the swordsman.
There's also the school of thought, however, that suggests this isn't new weapon at all, but a very old one. In the brief snippet of footage we see, new villain Kylo Ren (Adam Driver) handles this lightsaber. We've heard rumors for a while that he is an obsessive collector of ancient Sith artifacts, and it's possible that this is one. It could very well be a relic from an earlier time, where there was less emphasis on technique and more on blunt power. Age could also explain the general wobbliness of the blades, as they appear to be warped and not quite as rigid as we're used to seeing.
As with everything related to Star Wars: The Force Awakens, all we can do is speculate between now and December 18 when it hits theaters. We'll likely see more from the film before then, especially with their presence at San Diego Comic Con this year, but how much actual concrete information we get remains to be seen.
Watch Qui-Gon Jinn and Obi-Wan Kenobi battle Darth Maul on the next page...
Your Daily Blend of Entertainment News