2 Classic Star Wars Characters Returning For The Force Awakens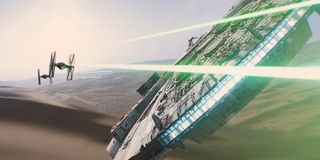 It was always apparent that Star Wars: The Force Awakens would supply plenty of trips down memory lane while showcasing its new stars. However, besides the returning primary cast, a new report revealed that a few iconic supporting players from the Original Trilogy will show up, as well.
WARNING: While this report isn't confirmed, it could nevertheless be a source of SPOILER material. Proceed with caution!
Star Wars-centric site, Episode VII News managed to obtain an intriguing exclusive in the form of photos showing some characters that, up until now, have yet to be seen by the public eye. Depending on the ultimate veracity of these images, it appears that three characters have been unofficially unveiled for The Force Awakens. However, Star Wars fanatics will surely recognize the names of two of them: Admiral Ackbar and Nien Nunb.
You can check out the actual photos being discussed in the Episode VII News piece.
The photo of Admiral Ackbar shows the immediately identifiable armchair maestro of the Rebel forces from Return of the Jedi's Battle of Endor, standing stoic, sporting wrinkles, with arms folded, still likely contemplating on that deceitful "trap" of his fleet. At first glance, the blurry, wantonly watermarked picture gives off the appearance of artwork or even a CGI rendered character. However, the report emphasizes that what is being shown are very real examples of what they call "practical creatures." Yet, it was not indicated if we were looking act costumed actors or puppets. We do know that actor Tim Rose portrayed Ackbar in Return of the Jedi, though whether or not he was asked back to reprise the role is uncertain at this point.
We then have Nien Nunb, who served as Lando Calrissian's co-pilot in the Millennium Falcon during the aforementioned battle surrounding the forest moon of Endor. Unlike his Mon Calamari counterpart, the pic makes it seem that the years have been more than kind to Nien as he doesn't appear to have aged a day since we last saw him snicker at the explosion of the second Death Star. Oddly enough, his fashion choices also showa nonexistent change, as he appears to be wearing the same red jumpsuit/black vest ensemble.
Also plagued with bad resolution, the picture comes across as non-photographic, despite the report's claim to the contrary. Interestingly enough, Nunb was a dual role played by a puppet in the Falcon cockpit scenes and a costumed actor, the late Richard Bonehill, in the wide shots. Again, like Ackbar, it is uncertain whether we're looking at a new puppet or a costumed actor.
Lastly, the report also provided a full-bodied portrait of an X-Wing pilot played by a bearded, repertory J.J. Abrams player Greg Grunberg. While it is still uncertain, speculation points to the character's name being "Gorwyn." Unlike the other two pics, this one is most definitely a photograph, showing Grunberg in full Rebel regalia, sporting a flight suit that, similar to Oscar Isaac's Poe Dameron, resembles what the Rebels wore in the Original Trilogy, except with slight modifications.
While the term, "take with a grain of salt" tends to get thrown around quite a bit when it comes to this type of report, it is applicable in this case, nevertheless. Yet, it might be enough to reasonably get our hopes up that ol' Admiral Ackbar will be back to identify dastardly deceptions and that Nien Nunb will be reprising his signature habit of… something, I'm sure. It all happens when Star Wars: The Force Awakens hits theaters on December 18.
Your Daily Blend of Entertainment News