Watch J.J. Abrams Film The Force Awakens In Behind-The-Scenes Star Wars Video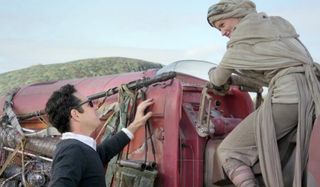 Vanity Fair recently debuted their latest issue, filled with incredible photography by Annie Leibovitz of the cast of Star Wars: The Force Awakens. Thanks to her work, we know that Girls star Adam Driver is playing the Sith with the swanky saber, Kylo Ren, and that Oscar winner Lupita Nyong'o is playing a motion-captured character (to be revealed at a later time). However, the magazine also revealed a new video of director J.J. Abrams maneuvering around the set with his star-studded cast. Watch it now.
Leibovitz went to the set of The Force Awakens and got some pretty stellar shots of Abrams and the cast, and Vanity Fair was there to film all the behind-the-scenes actions. In addition to brief statements from Lucasfilm President Kathleen Kennedy and actress Daisy Ridley, we see Abrams posing and chatting with Ridley, as she's mounted on her speeder dressed as her character, a scavenger from the planet Jakku named Rey.
The video, coupled with the photos Leibovitz shot, may be short, but it gives us our first look at some of the new characters and settings. Driver, for one, stands unmasked amid a frozen tundra in his dark garb, while Nyong'o is seen suiting up in a motion-capture suit to perform as her character, a space pirate named Maz Kanata. Vanity Fair announced that it will unveil the first look at a new character later on... possibly Nyong'o's CGI recreation. If you want to be first to find out who it is, be sure to sign up for their newsletter and it will be emailed to you later.
Star Wars: The Force Awakens also features John Boyega as a Stormtrooper named Finn, and the return of Peter Mayhew as Chewbacca and Harrison Ford as Han Solo. All three were photographed for the cover of Vanity Fair, alongside Ridley, in the Millennium Falcon. It's funny to think that this hunk o' junk actually caused Ford's earlier injury and, as a result, halted production. By the looks of them in the video, it seems the star has rekindled his relationship with the fastest ship in the galaxy.
Not shown in the video are Oscar Isaac as X-Wing pilot Poe Dameron, Carrie Fisher as Princess Leia, Mark Hamill as Luke Skywalker, Andy Serkis, Max von Sydow, Domhnall Gleeson, Gwendoline Christie (rumored to be that Chrometrooper we spotted in the second Star Wars: The Force Awakens trailer) and the other members of the immense cast. As we get closer to the film's release date, December 18, we'll be seeing loads more from this highly anticipated cinematic event. If Furious 7 surpassed $1 billion at the box office and Avengers: Age of Ultron had the second biggest opening, than The Force Awakens will probably set another new record, and it's videos like the one above that are building this hype.
Your Daily Blend of Entertainment News