Why The Fantastic Beasts Script Is Mind-Blowing, According To Eddie Redmayne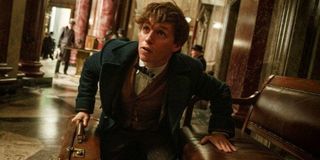 Eddie Redmayne starring in the adaptation of J.K. Rowling's expansion of the Harry Potter universe seems like a match made in heaven. But the Oscar-winning actor, who picked up last year's Best Actor gong for his turn in The Theory Of Everything, has now admitted that he was so impressed with Rowling's screenplay that he immediately assumed he would lose out on the role to another actor. That's how good the script is.
Obviously that didn't prove to be the case. In fact, Eddie Redmayne has since gone on to secure another Best Actor nomination for his performance in The Danish Girl. Redmayne's next release is Fantastic Beasts And Where To Find Them, and, if the actor's description of its script to Pottermore is anything to go by, it should more than live-up to the inevitable Harry Potter comparisons.
In Fantastic Beasts And Where To Find Them, Eddie Redmayne plays Newt Scamander, a wizard and employee at the British Ministry Of Magic. In Newt's possession is a magically expanding briefcase that is the home to numerous dangerous creatures and, as its title suggests, rather fantastic beasts.
Unfortunately, the briefcase opens just a smidge, which not only allows the creatures to escape, but also threatens to ruin the already strained relationship between non-magical and magical beings.
As the above trailer proves, Eddie Redmayne's innate and contagious enthusiasm and joy should merge perfectly with the effervescent nature of J.K. Rowling's script and Fantastic Beasts And Where To Find Them's fantastical plot. It also helps that he's got a rather sterling cast alongside him, which includes Katherine Waterston (Inherent Vice), Don Fogler (Balls Of Fury), Samantha Morton (In America), Ezra Miller (Flash), Colin Farrell (In Bruges), Jon Voight (Midnight Cowboy), and Ron Perlman (Hellboy).
But what makes Eddie Redmayne's remarks about J.K. Rowling's script even more impressive is that, even though all of the Harry Potter films were based on her extraordinarily successful book series, this is the first time Jo Rowling has been tasked with writing the screenplay. In order to make the transition as smooth as possible, director David Yates, who oversaw the final four Harry Potter films, has been brought on to direct Fantastic Beasts And Where To Find Them, which will finally hit cinemas on November 18, 2016. Are you excited for the magic?
Your Daily Blend of Entertainment News