Why Fast & Furious 7 Is In For A Huge Legal Fight In Thailand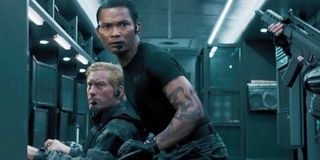 Furious 7 is poised to ride into theaters next weekend on a cloud of burning rubber smoke and adrenaline, likely breaking April box office records in the process. While it's causing action fans in America to salivate at the prospect of cars parachuting out of an airplane, in Thailand it's causing a huge legal fuss instead.
Variety reports that the release of the James Wan (Saw) directed actioner has been delayed in the Southeast Asian nation due in part to one of its stars, Tony Jaa. Jaa hails from Thailand and is probably the most recognized cinematic martial arts badass in the world right now. In the court injunction that halted the Furious 7 release, originally schedule for April 1, Sahamongkol Films alleges a breach of contract against Jaa, Universal Pictures, and United International Pictures. This could lead to a lengthy legal battle and delay the film even further.
This case doesn't have a day in court set until June, so it sounds like if Universal wants to get Furious 7 into Thai theaters before then, the two sides will have to come to an accord outside of the courtroom. For their part, Sahamongkol has indicated they are open to this, possibly hoping that the American studio will pay them a bunch of money in order to avoid losing box office revenue.
Sahamongkol is the studio behind a number of Jaa-starring pictures, including Ong-Bak, which vaulted him to international fame, and Tom Yum Goong, released as The Protector in the US. They claim that Jaa is under a long-term contract and that Sahamongkol is his exclusive talent agent until 2023, and are asking for the equivalent of $49 million to offset things like the cost of helping to launch Jaa's career and potential future earnings, all with interest of course.
This isn't a particularly new development, as Jaa and Sahamongkol have been going at each other for the last few years. Jaa wouldn't do any publicity for 2013's Tom Yum Goong 2, which he starred in and went on to flop hard in theaters, claiming his contract had expired.
While Furious 7 is the most pressing issue at the moment, as well as the biggest film involved, this situation could potentially impact two other movies that feature Jaa and are set to open this year. He stars in the human trafficking drama Skin Trade alongside Dolph Lundgren, and appears in the hard-boiled Hong Kong crime saga Sha Po Lang 2. Even if Universal comes to an accord with Sahamongkol, these two films are likely not going to be involved with that deal. There's no word on a Thai release for Skin Trade, but Magnet will release it in North America. SPL 2, however, is set to hit Thai theaters in April, so you can bet they've got a close eye on how this case develops.
Your Daily Blend of Entertainment News