Fast & Furious 7 Is Going To Make A Stupid Amount Of Money Over Its Opening Weekend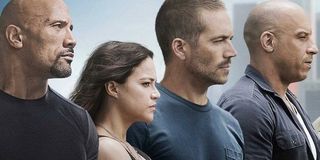 We hope you're ready for the idea of vehicular mayhem to be cranked up a few notches, because Furious 7 is now less than two weeks away from roaring into theaters. It looks insane, with cars parachuting out of an airplane and leaping from building to building at the Etihad Towers in Abu Dhabi, but it is also poised to make a crazy amount of money at the box office after it debuts on Good Friday.
According to Deadline, industry insiders who have ideas and insight about this sort of thing estimate that the latest installment in the adrenaline-and-scorched-rubber-fueled franchise could open to a whopping $115 million. Marvel's Captain America: The Winter Soldier opened last year with $95 million, making it the biggest April opening ever, but if Furious 7 hits its projected number, it will obviously blow past that.
The report cites all kinds of metrics and polling numbers, but the general gist is that the franchise's key demographics are super pumped for one last ride with Paul Walker. Perhaps more telling than the numbers, one Universal executive calls the data "just amazing." Considering that Fast & Furious films have already earned more than $2.4 billion—the last installment alone raked in north of $788 million worldwide—that's saying something.
Furious 7 premiered at the South by Southwest film festival last week, and currently sits at an 83% "Fresh" rating at aggregator Rotten Tomatoes. That'll certainly fluctuate some as more critics lay eyes on the film, but most reviews say it's a fitting, action-packed, and emotional send off to Walker, who passed away in 2013. (Vin Diesel just named his daughter Pauline in honor of Walker; all of the feelings.)
Directed by James Wan (Saw), Furious 7 finally catches up, timeline wise, with Tokyo Drift. After taking down Owen Shaw last time out, reclaiming their lives in the process, Brian O'Connor (Walker), Dominic Toretto (Diesel) and the rest of their crew just want to be normal and have barbecues and stuff like that. Unfortunately for them, Shaw had a big bad older brother named Deckard (Jason Statham), who is none to pleased and out for revenge... which we got a taste of at the end of Fast 6. So, it's time to mount up for one more ride to find the man responsible for the death of one of their own.
Joining Walker and Diesel are returning franchise vets Michelle Rodriguez, Jordana Brewster, Tyrese Gibson, Ludacris, Dwayne Johnson and Lucas Black (finally). In addition to Statham, Furious 7 also welcomes martial arts badass Tony Jaa, general badass Kurt Russell, Game of Thrones' Nathalie Emmanuel, Guardians of the Galaxy's Djimon Hounsou, and UFC champ Ronda Rousey to the party.
Furious 7 opens April 3, and we can think of much, much worse ways to spend Easter Weekend.
Your Daily Blend of Entertainment News
Your Daily Blend of Entertainment News
Thank you for signing up to CinemaBlend. You will receive a verification email shortly.
There was a problem. Please refresh the page and try again.