Why George Miller Won't Shoot Any More Mad Max Movies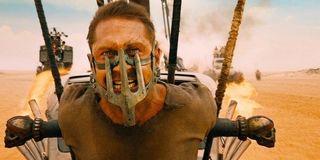 Mad Max: Fury Road was overwhelmingly lauded upon its release in the summer. In fact, the critical response was so positive that it ended up topping dozens of top 10 lists come the end of 2015. With that kind of support, you'd imagine that director George Miller would be chomping at the bit to return to the franchise. But, sadly, the Australian filmmaker has now revealed that he doesn't have any plans to make a Mad Max: Fury Road sequel.
The collective groan from the cinematic community because of George Miller's decision can probably be felt worldwide. But the director has a pretty good reason for not wanting to make another Mad Max film. You see, completing Mad Max: Fury Road was absolute torture for him, and he admitted to Page Six that's why he currently has no plans to return to the series.
To say that making Mad Max: Fury Road was a complicated shoot is somewhat of an understatement. That's because George Miller actually began developing the follow-up to 1979's Mad Max, 1981's Mad Max 2: The Road Warrior, and 1985's Mad Max Beyond Thunderdome all the way back in 1997.
However, the film soon got bogged down in the cinematic mire, and attempts to shoot it in 2001 and 2003 quickly ran into problems because of the September 11 attacks and the Iraq War, respectively. These issues led George Miller to different projects, mainly the Happy Feet franchise.
But the allure of another Mad Max film still dominated George Miller's thoughts, and by 2009 the director's plans for an early 2011 shoot were in motion, with Tom Hardy cast as Mel Gibson's replacement. However, its shoot soon was delayed until July 2012. When it finally began filming, it commenced all the way through until December 2012, while additional footage was shot almost an entire year later in November 2013.
Even post-production was somewhat of an issue, as Mad Max: Fury Road contains over 2,000 visual effect shots. Miller had also shot 480 hours worth of footage, which took his editor -- his wife Margaret Sixel -- three months to actually sift through. In the end, Miller was able to make Mad Max: Fury Road truly stand out from its competitors in this process, which he did by slowing down its frame rate so that audiences could understand and properly see the action scenes. The light and time of day, weather effects, and terrain replacement were all severely altered with extensive effects work too.
The film was finally released in May 2015 to widespread acclaim and a relatively impressive $375.8 million box office salvo. And even though there had been chatter from George Miller himself about a possible follow-up, it seems like the filmmaker has basically decided that life's too short.
Your Daily Blend of Entertainment News