Mad Max: Fury Road 2 Is Already Making A Change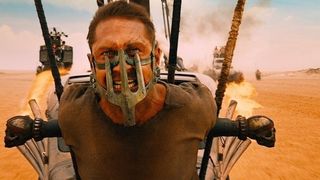 Though it eventually wound up making a tidy sum, it took a while, and there was some doubt about Mad Max: Fury Road getting a sequel. Franchise mastermind George Miller has been talking about more adventures in post-apocalyptic wonderland since even before the movie came out, and though they are indeed moving forward, it's with a different title than we thought.
Reports making the rounds indicated that he sequel was going to be titled Mad Max: Wasteland, though in an interview with Deadline, Miller revealed that's no longer the case. He said:
Movies often have a working title during the various stages of production, something that serves as a placeholder while a better title is decided upon, or even to mask the true nature of a project the studios are trying to keep secret. (For example, Return of the Jedi operated under the working title Blue Harvest.) Mad Max: Wasteland obviously isn't hiding anything, but it doesn't sound like that was ever really going to be the finished title.
And I'm okay with that. Naming your movie Wasteland when it's actually about a post-apocalyptic wasteland is a bit too on the nose and not particularly interesting or informative. You just know that there has to be something other element in the script or story or setting that they could pluck out that would be a better fit. We don't know what it will be, but let's hope that it doesn't take us another 30 years (the time that elapsed between Mad Max Beyond Thunderdome in 1985 and Mad Max: Fury Road this year) to find out.
Fury Road was one of the best reviewed movies of the year, action, comedy, drama, or otherwise—it currently has an astonishing 97% Fresh rating on review aggregator Rotten Tomatoes. Financial success for the Tom Hardy and Charlize Theron-fronted post-apocalyptic adventure, however, proved to be a tougher nut to crack. With a budget of $150 million just on the production side, that doesn't take into account an expansive and expensive marketing campaign, even though it wound up earning north of $374 million worldwide, it's not as profitable as it sounds.
Still, the fans are clamoring for more, and George Miller has said that he has at least a couple of other ideas for future installments kicking around, though it doesn't sound like Charlize Theron's one-armed badass Furiosa will be back to play in this particular sandbox again. Bummer. But the idea of a nearly mute Tom Hardy blasting around the scorched earth in a post-apocalyptic battlewagon sounds like fun to us, and sounds like it's going to get done. Just don't expect it to be called Mad Max: Wasteland.
Your Daily Blend of Entertainment News
Thank you for signing up to CinemaBlend. You will receive a verification email shortly.
There was a problem. Please refresh the page and try again.