Why The Goonies Screenwriter Will Never Abandon Goonies 2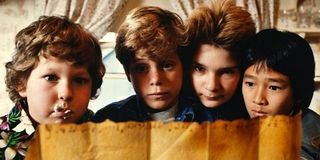 Though Michael J. Fox and Robert Zemeckis don't see any future for Back to the Future, there is still hope for many other reboots and sequels based on classic properties. Though another Goonies, for example, doesn't seem like it will ever see the light of day, director and original Goonies writer Chris Columbus says he will never give up hope.
In an interview with ScreenCrush, Columbus said that he's "heavily developing" a Goonies reboot and reinforced his hope for it. According to him, he'll always remain attached to it because who knows what could happen if he's not involved in some capacity. He said:
There's been a continuous "will they, won't they" vibe from Goonies 2, which producer Frank Marshall has gone on record saying is not actually a sequel. Columbus reiterates in this latest interview that it is in fact a reboot. It was only a couple months ago that Sean Astin, who played Mikey, was cautiously optimistic for the fate of the film, saying that the writers have to figure out how to recreate that feel and sense of wonder. This deviates from what he said last year, though, in calling the project "magic." Original director Richard Donner also said that there's no reason to push forward until they can crack the story. He said he wants the non-sequel to be "in the Amblin spirit."
While the big question is whether or not this will actually happen, the second biggest question is who from the original cast might return? Astin, for one, has been talking about this reboot for quite some time, while Josh Brolin, who played Mikey's brother, Brand, said he would absolutely tie that red bandana around his head again. But, first things first, they need a worthwhile script.
Goonies recently celebrated its 30th anniversary, having debuted in theaters on June 7, 1985. Festivities were held in the seaside town of Astoria, Oregon, which acted as the setting of the film. Among the events taking place over the course of a few days, cast member Jeff Cohen showed up to talk about his days playing Chunk. Now he's practically unrecognizable. He shed the weight and became an entertainment lawyer.
We'll have to wait for the next micro-update on the next Goonies, whether it's from Columbus, Donner, or any of the original cast members. Columbus, for one, also has a Gremlins reboot in the works, and although that one has been in similar production turmoil, the writer has just as much hope for that project.
Your Daily Blend of Entertainment News
Thank you for signing up to CinemaBlend. You will receive a verification email shortly.
There was a problem. Please refresh the page and try again.