Why The Gremlins Reboot Is Happening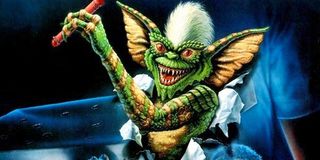 Just in case the recent reports regarding the upcoming reboot of Gremlins have still left you incredulous, confirmation from a solid source not only reiterates that it is happening, but that process is moving along. The writer of the original 1984 film, Chris Columbus, has revealed the reason why Warner Bros. has thrown water on this franchise to watch it multiply.
Sitting down with Collider at CinemaCon in Las Vegas to promote his new film, Pixels, Chris Columbus, who essentially created the franchise, having written the screenplay for the first film, discussed the rumors about the Gremlins reboot. While he was not at liberty to divulge plot details, he certainly did clear up where the film stands. As Columbus candidly states:
Confirming his involvement with Gremlins, Columbus revealed that the writing process is already underway. He also went out of his way to emphasize his awareness of the current crazy reboot culture in Hollywood. In that sense, he illustrated the mindset that motivated the go-ahead for this particular revamp of a beloved property, one which purists lamenting ruined childhoods will likely scoff at with indignation. However, Columbus reveals that at least, to some extent, it was the current work of none other than J.J. Abrams that actually inspired this project.
According to Columbus, Abrams' work reviving both Star Trek and now Star Wars has been successful in its ability to hone in on the desirable elements of nostalgia in a property and magnify their essence in a way that uniquely connects with audiences across the board. Columbus even specifically cited the recent new trailer for Star Wars: The Force Awakens, where an aged but recognizable Han Solo and Chewbacca show up. It's an unmistakably emotional moment that perfectly illustrates how that film (at least based on what little we've seen of it) has managed to isolate the nuances of nostalgia which allows audiences to once again experience feelings similar to the past, but in a new context. In this sense, Columbus believes that the Gremlins reboot may similarly be able to tap into that same keg of nostalgia.
The Christmas-themed summer 1984 release of the first Gremlins was a runaway hit, grossing $153 million even without a boost from a foreign release. However, 1990's Gremlins 2: The New Batch couldn't even manage to match the original by a third, earning only $41 million. Yet, the latter film is somewhat highly regarded for its mix of off-the-wall zaniness and its satirical displays of meta-minded mischief that clearly demonstrated a level of self-awareness. The reboot, which is being written by Disturbia and Red Eye scribe Carl Ellsworth, will need to isolate the elements that made the franchise so popular. However, that can sometimes be more difficult than it sounds.
While Chris Columbus was in no position to divulge details of the long-in-the-making reboot project, it is clear that the prospect excites him, which makes us especially optimistic in light of his expressed skepticism about reboots. Based on what he's saying, the film will carry the quintessence of the phenomenon that was the original film, rather than the garish, gene-modified animalistic antagonists from the second. Although, having Hulk Hogan show up again may not be a bad thing.
Your Daily Blend of Entertainment News
Your Daily Blend of Entertainment News
Thank you for signing up to CinemaBlend. You will receive a verification email shortly.
There was a problem. Please refresh the page and try again.