Why Guy Pearce Almost Turned Down Iron Man 3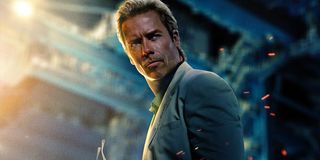 Guy Pearce's role in Iron Man 3 attracted a lot of controversy. As weapons designer Aldrich Killian, he provided a threat to Tony Stark that left the board room and entered the real world, before revealing his relationship to the Mandarin. It was a chaotic turn, one that emphasized not only Pearce's oily handsomeness and charisma, but also his intimidating intellectualism and bloodthirsty conviction. Pearce has starred in a number of films over the years, but it's not a surprise that in a recent interview, he hints at difficulties adjusting to the "Marvel way."
In an interview with Total Film (via JoBlo ), Guy Pearce claims he was very close to bailing on Iron Man 3 for a very specific reason. He confesses that his agent promoted the mainstream appeal of the Marvel movies, and Pearce says he loves what Robert Downey Jr. and Gwyneth Paltrow did in the previous films. But there was one crucial obstacle:
Pearce goes on to rave about Iron Man 3 as a finished product, calling it a "great movie." But you can't blame him for seeking this Get Out Of Jail Free card if the script sucked. Even if an actor does see a finished script, it's a massive leap of faith that the director is going to be able to put the pieces together and provide a decent interpretation (unless, of course, the script is re-written). A great script does not mean a great movie – look at all the scripts that reach the top of Hollywood's "Black List", and see how many of them resulted in forgettable movies like The Beaver and Draft Day.
Marvel's policy, like many geek movies, is meant to limit exposure to the public. Which means actors rarely, if ever, get to see a script, and assume a film will be good based on a leap of faith regarding the talent attached. Filming a blockbuster is a huge decision to make – not only do you have to spend months on set, but you also have to stand by the film and be proud of it during a promotional circuit, whether it's good or not. Guy Pearce sounds like a lot of veteran actors; they don't want to be flown around on a company's dime to different reporters only to lie about the quality of the company's product. Fortunately, Iron Man 3 went on to be a billion dollar success that was well-liked by audiences and critics. Pearce ultimately had nothing to worry about, but it's good that he was able to at least check out a script beforehand.
Your Daily Blend of Entertainment News
Thank you for signing up to CinemaBlend. You will receive a verification email shortly.
There was a problem. Please refresh the page and try again.