Why Harrison Ford Breaking His Leg Was Good For Star Wars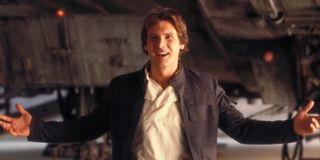 Midway through production on Star Wars: The Force Awakens, there was an incident on set that could have potentially caused substantial delays to the hotly anticipated seventh Star Wars movie: Harrison Ford broke his leg. At first glance, that seems like a bad thing—Ford probably didn't enjoy it all that much—but according to director J.J. Abrams, it was actually a blessing in disguise.
There was a break in production while Ford recuperated from his injury, and talking to Entertainment Weekly, Abrams revealed that there were some benefits to this extra time. He said:
The extra time provided Abrams and writer Lawrence Kasdan the opportunity to get together and rewrite some of the upcoming scenes. It also allowed the other actors more time to rehearse with each other, and Abrams was even able to go back and reshoot some moments that they had in the can, but that they weren't quite as stoked on as they could have been.
In addition to having a beneficial impact on the shoot, Ford's injury also didn't have the negative effects that many, including the filmmakers, initially expected. Abrams anticipated that when the 73-year-old actor returned to set that he would be much more limited in what he could do, and that from that point forward they would have to adjust the script to find ways to have him sitting down and things like that. But as it turned out, that wasn't an issue at all. Abrams said:
In fact, J.J. Abrams himself probably could have used the additional down time to recuperate from his own injuries. Harrison Ford was hurt when a big chunk of the Millennium Falcon set broke off and fell on him, breaking his leg. In a story that didn't come out until recently, while trying to rescue Ford, Abrams actually ruptured a vertebrae attempting to lift the fallen prop door off his star and subsequently had to wear a back brace while directing the movie.
Even with all of this going on, the release date for Star Wars: The Force Awakens was never pushed back and the film will make it's scheduled slot on December 18.
Your Daily Blend of Entertainment News
Thank you for signing up to CinemaBlend. You will receive a verification email shortly.
There was a problem. Please refresh the page and try again.