J.J. Abrams Reveals The Strange Stories Behind 6 New Star Wars Character Names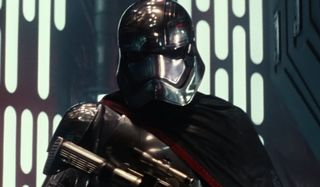 Before the big Star Wars: The Force Awakens Comic-Con trailer, before the magazine spreads in Vanity Fair and Entertainment Weekly, before we knew what The First Order was, we had the names. As we learned through the dissection of Kylo Ren, a name can be especially revealing, which is why so many of us have analyzed to death the ones marking the new Star Wars characters. In the latest issue of EW, though, director J.J. Abrams goes deeper into how Finn, Rey, Poe Dameron and the like got to be named as such.
We already learned that Adam Driver's Sith character received the name Kylo Ren after joining the organization known as The Knights of Ren. Abrams wouldn't go into any further detail on the matter, but the existence of such a group is interesting, nonetheless. So what about the central trio, as well as folks like Captain Phasma, General Hux and that lovable, rolling droid BB-8? How did these Star Wars character names come to be? Here's the info we gleaned from EW.
Finn and Rey
As reporter Anthony Breznican notes, the characters of John Boyega and Daisy Ridley are the only characters right now with one-word names. All the others that we've learned — with the exception of the new droid — consist of two. According to Abrams, this is no coincidence. He wouldn't reveal the last names of these folks, but he did say that it's "completely intentional" that we don't know them. All we do know at this point is that Finn is a runaway Stormtrooper and Rey is a scavenger on the desert planet Jakku.
Poe Dameron
If you ask me, Poe Dameron sounds like an anti-depressant you hear about on late-night informercials, but Oscar Isaac's character is already becoming somewhat of a sexy icon in Star Wars fandom. He's an X-Wing pilot, the best in the galaxy, and he's sent on a mission by "a certain princess" that entwines his destiny with those of Finn and Rey. Though his name is especially unique, it's not really meant to be a cinematic tribute. As it turns out, the last name came from Abrams' assistant, Morgan Dameron, while the first name was one that felt right after Abrams considered many options. Though, someone pointed out to him that his daughter had a stuffed polar bear named Po.
BB-8
Unlike most of the other characters, Abrams and co. decided upon BB-8's name early on and stuck to it. It just made sense. The new droid rolling into our hearts is already shaped like the number 8, with his small helmet resting on a mobile sphere. As for the first part, it's not a reference to Abrams' longtime production partner Bryan Burk. It is, instead, onomatopoeia of the droid's movements.
General Hux
It was only during San Diego Comic-Con in July that we learned who Domhnall Gleeson plays in The Force Awakens, and he's not a good guy. General Hux is a young but menacing commander of The First Order who's a bit too eager to unleash his reign of terror upon the galaxy. Coupled with his even more menacing Starkiller space station, and he's a significant threat. Abrams isn't all too sure exactly how his name came to be, but he recalls walking through a cemetery near the Bad Robot offices with writer Lawrence Kasdan and seeing if any names on the gravestones stuck.
Captain Phasma
Gwendoline Christie, the resident badass of Game of Thrones, plays Captain Phasma in The Force Awakens. She was dubbed a chrometrooper by the fans early on in light of her glistening armor, and its the look that came before the name. Abrams paid tribute to Phantasm, a horror film from 1979 that featured a grave robber called the Tall Man. Out of his arsenal of specialized weapons was a silver sphere that plunged into its victims. The wardrobe team led by costume designer Michael Kaplan came up with a chrome design that reminded Abrams of this sphere and the revelation that Phasma "sounds really cool."
We'll learn more about Star Wars: The Force Awakens as we approach its December 18 release date.
Your Daily Blend of Entertainment News