Badass Nazi Zombie Thriller Just Hired Former Jedi Hayden Christensen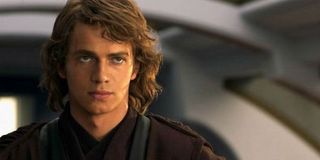 Hayden Christensen has had his ups and downs, and since his time as Anakin Skywalker in the most recent Star Wars trilogy, he's tried to prove his acting chops time and time again. It has not come easy though, and since the actor was pretty much ripped apart by fans for his acting in the Star War films, Christensen hasn't had much of a following. But, could his newest role give him the break he needs? Christensen will be taking on the undead in upcoming Zombie WWII thriller entitled, Untot, and it sounds pretty damn badass.
The film, Untot which means 'undead' in German, will revolve around Lieutenant Frederick Hank (Christensen) and his elite military unit during WWII. The unit has a special mission to destroy a secret Nazi weapons facility behind enemy lines in the mountains of Poland, but when they arrive on the scene they see something they've never trained for (this is where the zombies fit in). And seriously, what could be worse than Nazi zombies?
The film will be directed by an experienced director and producer in video games and comic books, Kris Renkewitz. Renkewitz is known for his art on an array of Marvel and DC Comics including, The West Coast Avengers, Iron Man/War Machine, Daredevil, The Flash, The Justice League and Superboy. He has also directed the Tomb Raider, Ghostbusters and 007: Tomorrow Never Dies video games and owns and operates an animation and VFX studio behind Halo, League of Legends, Prince of Persia, Mad Max and Resident Evil. With a resume like his, Renkewitz is bound to give us a unique and badass film, and it is exactly what Hayden Christensen needs to be attached to. Producer of the film, Greg O'Connor of Solaris Entertainment told The Hollywood Reporter of Renkewitz's unique ways:
Christensen may do well to work with such specific direction. Though, maybe there is some hope for Christensen's upcoming features as well. The actor stars in an independent action-heist film, American Heist, alongside Jordana Brewster, Adrien Brody and Akon just recently released. He also will star in an upcoming film based off of a New York Times best-selling novel, 90 Seconds in Heaven. But then of course you get the questionable choice as well. Because, this is the same guy who starred in Jumper (I get sad just thinking about how bad that movie was). Christensen is also starring alongside Nicolas Cage in a, get this, American-Chinese-Canadian action film. The film, Outcast, was recently released in China and already has announced plans for sequel.
No word quite yet on the scheduled release of this zombie thriller, Untot, but we can't wait to see what comes of it and its exciting potential.
Your Daily Blend of Entertainment News