Why The Hunger Games Movie Is Better Than The Book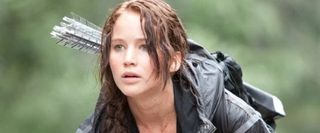 Like most people who read the Hunger Games book series, I fell hard for the heroine Katniss Everdeen. She's fiery, she's strong, she's realistically confused when put into terrible circumstances, she's trying to do her best most of the time but not that good at it, and most importantly, she's exactly who you'd want standing up for you when you go into battle.
But I know I can't be the only person who occasionally got annoyed with Katniss too, sick of reading her inner monologue about how confused she was by Peeta's affections, how much she didn't understand how to communicate with other people, and especially how she was constantly convinced at every turn that her death was imminent-- even though, holding the book in your hands, you knew there were a bunch of chapters starring her left to go. Katniss is a fascinating and complicated heroine, and it's hard not to just be grateful for that, but sometimes Suzanne Collins seemed to be trying so hard to write a realistically complex teenager girl that she could isolate the audience from Katniss entirely.
In the movie adaptation of The Hunger Games, this problem is fixed in one swift, brilliant move: casting Jennifer Lawrence. I was among the many who thought that Lawrence was too old, or too glamorous, for the role when she was cast this time last year. She'd proven her acting chops with her role as a teenager in Winter's Bone, but years later Lawrence was clearly a grown-up, and someone who seemed to lack the vulnerability that 16-year-old Katniss has, no matter how much she masks it with a hot temper and archery skills.
But from the moment The Hunger Games begins Lawrence inhabits the role, her soft face looking exactly young enough, her movements loping and tense, her willingness to fight and scream and piss people off coming through even in a cold, silent glare. And when we enter the arena with Katniss, that quiet presence becomes all the more vital. In the books she's narrating the action to us, explaining what tracker jackers are and how to interpret the announcements from the gamemakers; the movie wisely avoids having Lawrence speak out loud to herself and hands over a lot of that exposition to Stanley Tucci as Caesar Flickerman, doing an effective kind of play-by-play commentary. But it's all up to Lawrence to give us Katniss's point of view, and she does so with the smallest facial expressions and physical movements, inviting the audience into Katniss's experience without, as the book does, drowning us in it.
This might pay off the best in the requisite romance scenes, which are truncated significantly from the books, and don't require Katniss to constantly tell the audience "Wait, is Peeta faking this romance too? Do I really have feelings for him?" Lawrence and Josh Hutcherson simply take over, playing Katniss and Peeta as two kids with no choice but to rely on each other, who may not really be in love, but who know that's what it will take to survive. If you've read the books it's easy to fill in the blanks, but even without them you get Katniss's reluctance, her need to seem strong but desirable, in a single shot of Lawrence's face.
There are a lot of other differences between the Hunger Games movie and book that I think make the movie superior, from the aforementioned play-by-play narration to an expanded role for Haymitch to the chaotic cinematography at the Cornucopia to a new scene between Katniss and the girl known as Foxface. But Lawrence's performance is what it all relies on, and it's not just that she makes the movie possible, it's that she elevates a beloved character beyond what most of us knew. Her Katniss is not a different person than the one from the books, but a better version of her, equally tough and emotional and relatable but without all the internal monologue to drive us crazy. With adaptations of Catching Fire and Mockingjay all but guaranteed by now, it's a huge relief to know that Lawrence will be at the center of them, making the Hunger Games franchise even better than we might have imagined.
For more on The Hunger Games go here.
Your Daily Blend of Entertainment News
Staff Writer at CinemaBlend