Why It Took George Lucas A Long Time To See The Star Wars 7 Trailer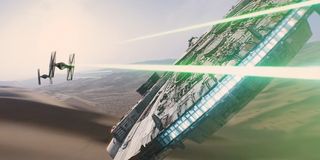 After the release of the initial trailer for Star Wars Episode VII: The Force Awakens, journalists began to seek the most coveted feedback for the magnificent montage, that of franchise father, George Lucas. However, oddly enough, Lucas would make headlines by his almost callous response that he didn't "know anything about it." The reason he would give was even more bizarre, saying that "it's not in the movie theater" and merely expressed a commitment to see the film "when it's released."
While it certainly seemed that the release of the trailer had exposed what might have been a post-breakup kink between Lucas and his recently-sold Star Wars franchise, it now appears that Lucas has broken what seemed to be a self-imposed pre-release moratorium. It seems that Lucas HAS, indeed now seen the new trailer. His cited reason? Because it wasn't an online video. As the former Star Wars visionary tells Page Six at a screening of his new project, Strange Magic:
While what little feedback provided was scant and vague to say the least, it probably was a big concession from Lucas, who, as mentioned earlier, seemed to imply that he would not even view any footage of the film until its release. While, of course, such a scenario would likely be impossible for those of us dwelling above rock-covered homesteads, Lucas is clearly trying to walk a fine line and not meddle in the affairs of the new director, J.J. Abrams. Even the most minor comments and observations could be interpreted as a critique, which could easily blow up into the media creating a narrative of friction between Lucas and the new Star Wars overlords at Disney.
The critique over the way the Prequel Trilogy was shaped under Lucas' guidance could fill novels. However, the primary criticism has been its adherence to richness and density in each given scene, as plot development and character depth was seemingly sacrificed for quick methods to get our heroes to mindless merchandise-friendly scenes which did little to advance anything other than the depth of toys on store shelves. The reaction to the Force Awakens trailer has generally been positive.
No doubt fueled by the nostalgia of seeing Original Trilogy characters and elements like the Millennium Falcon, the overall imagery seems to be a rollback to the more simplified, yet effective "used future" mise-en-scène of the older films. Additionally, the more notable new elements like the medieval-looking lightsaber wielded by the mysterious new villain (presumably named Kylo Ren) and rolling ball droid, BB8, seem to play into the "what is old is new" theme. It all stands in stark contrast to the wanton eye candy of last three Lucas films. Lucas might be playing things sly and his tight-lipped approach is understandable.
It will certainly be interesting to see what sort of feedback we can get when The Force Awakens hits theaters on December 18.
Your Daily Blend of Entertainment News
Thank you for signing up to CinemaBlend. You will receive a verification email shortly.
There was a problem. Please refresh the page and try again.