J.J. Abrams Admits Making Star Wars Was Terrifying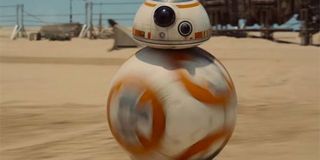 The pressure has got to be getting to J.J. Abrams. Not only did he switch sides during the great and unsaid war between Star Trek and Star Wars, but he's been bombarded day in and day out by impatient fans looking for their next Star Wars: The Force Awakens fix. Well, guess what? We're right. Abrams is not just anxious by all the attention, he's damn near terrified.
The director recently spoke with MTV News on the red carpet for the National Board of Review. While he didn't reveal any specific details as to the intricate working behind Star Wars: The Force Awakens, he did open up about all the pressures that come with his position. Said the director,
Abrams is a self-proclaimed diehard Star Wars fan, but being the name behind the first installment of relaunched franchise featuring a primarily new cast is one task that shouldn't be taken lightly. He's also not only dealing with the opinion of other Star Wars fans, but also the fact that his movie is coming as a result of a $4.05 billion deal that Disney made to acquire Lucasfilm. Thankfully, Abrams and his entire team were able to hone their angst into creating this film, and it was built as a team effort. Said Abrams,
Despite the fact that it's not coming out for another 12 months, Star Wars: The Force Awakens is on the top of everyone's radars this year - arguably even more than The Avengers: Age of Ultron, Ant-Man and Jurassic World combined! Well, that's a pretty strong statement, but it has been ranked as the most anticipated movie of 2015, and the first and only trailer so far nearly broke the Internet. With such an incredible cast, including the return of the intergalactic Three Musketeers (Solo, Skywalker and Leia), who can blame us? But Abrams won't have to be stressed out for too much longer. Looper helmer Rian Johnson will be in the director's chair for Star Wars: Episode 8 and, reportedly, also Episode 9. Then it becomes his cross to bear.
Sadly, we currently don't know when our next look at Star Wars: The Force Awakens is coming, and knowing how much J,J. Abrams likes to keep things secret, it may actually be a while until more footage is previewed. That being said, we will be waiting with baited breath for anything they provide us, and you can be sure you will be able to find it all here when it goes live.
Your Daily Blend of Entertainment News