Why Jesse Eisenberg Will Steal Batman V Superman From The Heroes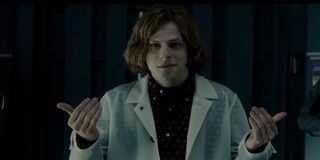 Last night's Batman v. Superman: Dawn Of Justice trailer filled up on as many heroics as it could, and the results were interesting. While the latest look at Zack Snyder's next comic book opus did show off some new stuff mixed in with moments we'd previously caught a glimpse of. Among the new material on display in this final trailer, what impressed me the most was something I never would have expected in a million years. In all honesty, I'm expecting Jessie Eisenberg's Lex Luthor to steal the movie from both of our heroes, and it'll all be thanks to an equal mix of humor and menace.
I'll admit, when he was first announced as the new Lex Luthor, I wasn't sold. With Bryan Cranston's name making the rounds, I was really hoping we'd see some of that Walter White magic worked on the hearts and minds of Metropolis. It's not that Eisenberg is a bad actor, it's just that he wasn't my first pick for who I'd see filling the shoes that Gene Hackman and Kevin Spacey had worn before him. But much like Snyder had successfully modernized the character of Superman in Man Of Steel, last night's trailer completely sold me on the idea that Jessie Eisenberg is a modern Luthor for a modern Superman.
It helps that Luthor has gotten some of the best lines and moments of the last couple of trailers we've seen for Batman v. Superman: Dawn Of Justice. Particularly with this new look, we get to see a playful side to his character, as he plays the clueless host that introduces Bruce Wayne and Clark Kent at a gala he's holding. You really have to wonder if he already knows both men's secrets, and is trying to play them against each other, as his remarks are a little too keenly targeted when breaking up the tension both men are engaged in. Of course, this only helps sell the fact that Luthor is a criminal genius, and that Eisenberg's variant knows exactly what he's doing from square one. You can see what we're talking about if you watch the trailer again, courtesy of the embed below.
Touting the fight between future friends as the, "greatest gladiator match in the history of the world," he obviously sees Batman as the way to defeat his biggest foe. Obviously, this tactic fails, and that leads to Lex breaking out the big guns. Unfortunately for all involved, those big guns are part of the genetic creation known as Doomsday – which in itself is an obvious desperation measure as, again, Lex waxes poetic and declares that, "if man won't kill God, the Devil will do it." While this borders on giving away the entire film's adversarial plotline, it does have one huge redeeming factor: it makes Luthor the main attraction for everyone who's tired of Batman and Superman.
As I had said before, a lot of what we saw in last night's trailer was already hinted at or shown to us previously through images or previous trailers. Walking away from the Batman v. Superman: Dawn Of Justice trailer when it ended, I realized that it didn't have the same effect that the Captain America: Civil War trailer did. That's not a reflection on where my allegiances lie, but rather a comment that there wasn't as many new details to behold as there were with the Marvel film's teaser – which was the first material we had seen released from the film that's only comes a mere two months later than its competition. Luckily, the new material with Luthor's snark and egotism was enough to sell me further on a film that I'm already sold on without a third trailer of material.
While I'm cautiously optimistic on Ben Affleck's Batman, and Zack Snyder's Man Of Steel was good enough that I'm curious to see what's next, it's Jessie Eisenberg's Lex Luthor that's the draw for me to see Batman v. Superman: Dawn Of Justice. Here's hoping that the evil, gleeful menace that we've seen thus far is merely the tip of the iceberg for Metropolis' rich and powerful wunderkind. March 23rd, 2016 will be the day we find out if DC Comics has put up, or if they'll have to shut up; and you know you're already waiting to buy your tickets to see which side wins out.
CinemaBlend's James Bond (expert). Also versed in Large Scale Aggressors, time travel, and Guillermo del Toro. He fights for The User.