Why John Boyega Doesn't Care If You Don't Want Black Stormtroopers In Star Wars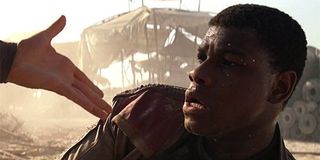 Star Wars: The Force Awakens hits theaters in just over two months, and since the project was announced, the internet has been ablaze with anticipation, speculation, and misplaced outrage over trivial details such as T-handled lightsabers. One aspect of the long-awaited next film in the Star Wars franchise that has caused a minor hullabaloo amongst only the narrowest minded of fans is the casting of Attack the Block star John Boyega as the first black Stormtrooper. If you're outraged and awaiting some form of apology or sign of contrition from Boyega, you're in for a long wait, because if you have an issue with a black Stormtrooper, Boyega's got three words for you: "Get over it."
In an interview with V Magazine Boyega spoke about being mentored by Iron Man himself, Robert Downey, Jr., and addressed the antiquated notion of there being any issue at all with a non-white Stormtrooper. He said:
Boyega, fearing the wrath of Star Wars: The Force Awakens director J.J. Abrams, was careful not to divulge too much about the upcoming film. He plays Finn, a Stormtrooper whom Boyega says has a "unique" narrative "never before seen" in the Star Wars universe. According to Boyega, Finn's character is "in conflict, mostly with himself but also with the powers." What exactly are "the powers?" Apparently, we'll have to see the film (as if we all weren't already going to anyway) to find out.
John Boyega, who grew up in a notoriously rough section of London, has taken pains to eschew the stereotypical roles most black actors are typecast into. In addition to Attack the Block, in which Boyega played a gang leader who first mugs a woman before helping her escape certain death by monsters, also stars in the upcoming British independent film Imperial Dreams, where he portrays a reformed gangster just released from prison who struggles with starting a new life in the face of the temptations and lure of his old one.
Star Wars: The Force Awakens hit theaters December 18.
Your Daily Blend of Entertainment News