Why Josh Hartnett Said No To Christopher Nolan's Batman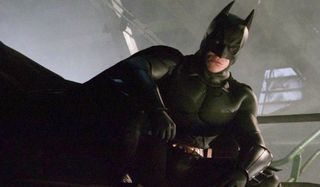 Before Christian Bale donned the black cape and mask to become Christopher Nolan's Dark Knight, there were a bevy of actors up for the role. Even our current Superman, Henry Cavill, made it to the final round of auditions, along with Jake Gyllenhaal, Cillian Murphy and Hugh Dancy. Josh Hartnett was apparently also in the mix, but unlike the other candidates, he made the fatal error of turning down the now iconic part.
The Penny Dreadful star recently spoke with Playboy for an interview, during which he revealed the understandable but unfortunate reason for saying no.
Because he bailed on Batman, he missed out on the other films that came as a result of the Dark Knight ripple effect. As he told Playboy, after Nolan selected Bale to be the new Caped Crusader, the filmmaker then cast him in The Prestige, which also featured Hartnett's girlfriend at the time, Scarlett Johansson. He learned that "relationships were formed in the fire of that first Batman film," and if he only had realized the potential of the role and the director at the time, he could have played a major part in that. If you recall, this isn't the first time Harnett totally missed out on a major superhero role. He said in a previous interview that he was afraid of being typecast, which is why he also turned down opportunities to play Spider-Man and Superman for Sam Raimi and Bryan Singer, respectively. If only he knew that superhero movies would've become international sensations.
Every actor has their regrets, whether it's the crucial audition they bombed, or the connections they wish they made, or the films on which they wish they took chances. But this one is staring Josh Harnett in the face year after year. This awful reminder came with The Prestige (2006), again with The Dark Knight (2008), again with The Dark Knight Rises (2012). And now that Bale is in Nolan's circle of trust, we wouldn't be surprised to see this relationship further develop over time.
At this point, it's crazy to think of anyone else in the role of Christopher Nolan's Batman, let alone Josh Hartnett. But, of course, we'll have to get over that when Ben Affleck debuts in Batman v Superman: Dawn of Justice. The first teaser leaked online and sent the online sphere into a tizzy, but fans are no doubt eager to see what direction Zack Snyder will take the character next.
Your Daily Blend of Entertainment News