Why Leonardo DiCaprio Isn't Worried About Opening The Revenant Against Star Wars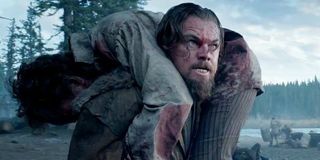 With all due respect to Alvin and the Chipmunks, as well as Tina Fey and Amy Poehler, but opening opposite Star Wars: The Force Awakens is a suicide mission. Early predictions on the Star Wars opening weekend are astronomical. We even expect the hoopla to last for weeks, which means most Christmas movies should be concerned.
But not Leonardo DiCaprio, who will open his tense man-versus-nature drama The Revenant in the shadow of The Force Awakens. And in a candid interview with Yahoo Movies, DiCaprio made it sound like he looks forward to the healthy competition that comes with an end-of-year opening. In all honesty, he didn't sound concerned, saying:
What else is he going to say, right? He's staring at a showdown with an unprecedented event movie that's showing all signs of swallowing every movie that stands in its path. In addition to The Revenant, that also includes David O. Russell's Joy, Will Smith's Concussion drama, the Point Break remake, and Quentin Tarantino's vengeance Western, The Hateful Eight.
But Leonardo DiCaprio isn't an uniformed dolt speaking out of turn against J.J. Abrams monolith. Quite the opposite. In the same statement, he says how he'll be in line to see Star Wars himself (so be sure to look out for him). But his interview brims with confidence in the movie that he managed to make with Tom Hardy and director Alejandro Inarritu. The Revenant tells the story of a frontiersman (DiCaprio) who is robbed and left for dead by his traveling companions after a bear attack. Only, the man didn't die. And when he digs himself out of the pit in which his compatriots left them, he sets off on a mission of vengeance the likes of which we probably have never seen.
I'd be confident, too, if my movie looked like this:
The Revenant opens in limited release on Christmas Day, and is expected to be a major player in the developing Oscar race. Star Wars: The Force Awakens opens in theaters on December 18, and is expected to consume everything in its path.
Movie junkie. Infatuated with comic-book films. ReelBlend cohost. Resident dad. Extroverted introvert. Wants to see the Snyder Cut. Managing Director at CinemaBlend.
Your Daily Blend of Entertainment News
Thank you for signing up to CinemaBlend. You will receive a verification email shortly.
There was a problem. Please refresh the page and try again.