Why The Lost World Is Worse Than Jurassic Park, According To Steven Spielberg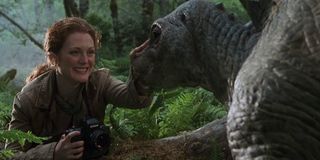 Few directors have rightfully earned their status as cinematic masters more than Steven Spielberg. Over the last forty years, he has found himself personally responsible for some of the most iconic and heartwarming blockbusters ever created. Many of us owe our childhoods to his visionary eye. That being said, not all of his films are masterpieces. Spielberg's sequels have a tendency to struggle when it comes to matching the standard of the originals, and the director seems to have a real reason for that.
During a recent interview with The New York Times, Steven Spielberg admitted that he knows a major reason why his sequels tend to not live up to the quality of his original films:
It's an unexpectedly candid and honest moment from a legendary director. Steven Spielberg accepts that his sequels often suffer because he does not feel the same level of pressure when he continues a franchise. He tends to rest on his laurels, and that confidence leads to an overall weaker product than the film that came before. He then goes on to cite a fear of "getting lost" in a story as the primary reason for this, as he's still haunted by the creative debacle of the original Jaws.
He then goes on to cite The Lost World as the most notable example of such a phenomenon. Although the second installment in the Jurassic Park franchise isn't necessarily bad – and actually has aged remarkably well over the last twenty years – it's not nearly as tight of a film as the original, and Steven Spielberg seems acutely aware of that.
Of course, the Jurassic Park franchise isn't the only series of Steven Spielberg films that falls into this category. Although Raiders of the Lost Ark is widely considered the best of the Indiana Jones franchise, opinions differ vastly regarding which of the three sequels comes in second. While many love the dark tone of Temple of Doom, others have come to appreciate the more light-hearted and buddy comedy stylings of The Last Crusade. There's even a vocal minority of fans who aren't ashamed to admit that they thoroughly enjoyed Kingdom of the Crystal Skull second to Raiders – it's a small group, but it exists. No matter what, the generally accepted rule is that these three movies fall in line behind the original.
Even legends have their low points, and this one's aren't even that low. Steven Spielberg has crafted some of the greatest blockbusters ever to grace the silver screen, but even he admits that he's phoned it in on more than one occasion. With a career spanning more than four decades, he doesn't seem to have any interest in slowing down. Whether it's a sequel or an original film, we cannot wait to see what he brings us next.
Your Daily Blend of Entertainment News
Originally from Connecticut, Conner grew up in San Diego and graduated from Chapman University in 2014. He now lives in Los Angeles working in and around the entertainment industry and can mostly be found binging horror movies and chugging coffee.