26 Huge Movies That Are Coming Out In 2016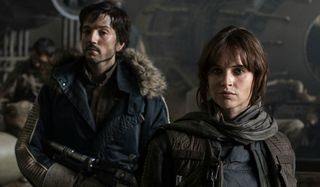 We are weeks away from closing the books on 2015, and while there are still numerous blockbusters preparing to drop between now and New Year's Day – from Star Wars: The Force Awakens to The Revenant and The Hateful Eight -- we're not ashamed to admit that we're jumping the gun a tad and starting to look forward to the sheer number of eye-popping features that are going to entertain us in 2016. Some of your favorite filmmakers are returning to theaters next year. Other comic book properties are expanding their scope. And the first of what used to be known as the Star Wars Anthology films will drop, giving audiences their first look at the spinoff stories that are expected to explore the galaxies outside of the new, core trilogy.
So, crack the seal on your 2016 calendars, and pencil in all of these dates, because you're going to want to be in a movie theater for these upcoming films, following the hard-R exploits of Deadpool, going on new adventures with Jason Bourne, moving back in with Seth Rogen and Zac Efron, busting ghosts, waging a Civil War, and placing bets on Batman over Superman (or vice versa). Here are the top movies we're anxious to see in 2016. What did we miss? Hit us up in the comments section:
Hail Caesar!
What it's about: Set during the Golden Age of an imaginary Hollywood studio system, a "fixer" (Josh Brolin) is hired to help retrieve a clueless silver screen legend (George Clooney) after he's kidnapped and held for ransom.
Why we care: Because Hail Caesar! is a new Coen Brothers movie, and around here, that's reason enough to be excited. But also because the first trailer that dropped showed that Joel and Ethan Coen are going after their own industry with the trademark brand of razor-sharp wit and biting observations, and are bringing along an incredible cast that – in addition to Coen vets Clooney and Brolin – will include Scarlett Johansson, Jonah Hill, Tilda Swinton, Ralph Fiennes, Frances McDormand and Channing Tatum.
Release Date: February 5
Deadpool
What it's about: Lethal mercenary Wade Wilson (Ryan Reynolds) undergoes elective – and experimental – surgery after learning that he has been diagnosed with cancer. He emerges with an array of powers that turn him into Deadpool… only, none of the powers get in the way of his sarcastic humor and his motor mouth.
Why we care: Because Ryan Reynolds has been fighting behind the scenes for years to bring a proper version of Deadpool to the big screen, and Fox finally is giving him a chance after fans went nuts for leaked Deadpool footage that went viral and solidified the tone of Tim Miller's superhero movie. If Deadpool connects, Fox might have a new superhero property that they can explore and expand for years to come.
Release Date: February 12
Zoolander 2
What it's about: Plot details on Zoolander 2 are scarce. The only synopsis we have says that Derek (Ben Stiller) and Hansel (Owen Wilson) are back to modeling, but a rival company tries to take them out of the industry. But really, are you going to Zoolander 2 for the story?
Why we care: Because unlike a few of his peers, Ben Still does not dip back into the well and regurgitate his previous materials for the sake of a quick paycheck. Fans of Zoolander have been begging for an opportunity to wade back into the shallow pool that is Derek's fashionista world. The runway opens in February, and I'm thinking that Stiller brought the characters back because he had a worthy idea. Am I giving him too much credit? We shall see.
Release Date: February 12
Zootopia
What it's about: Disney's latest animated effort imagines a society where animals populate cities and towns… not humans. But once that has been established, Zootopia starts to unravel a mystery, with Officer Judy Hopps (Ginnifer Goodwin) teaming up with a crafty fox (Jason Bateman) to put the pieces together and solve a crime.
Why we care: Because Walt Disney Animation has been on a Pixar-level hot streak, producing heartfelt and funny animated features like Big Hero 6, Frozen, Wreck-It Ralph (also co-directed by Zootopia co-helmer Rich Moore) and Tangled. Even if Zootopia is able to tap into half of the creativity and wild spirit of those recent hits, it's bound to be a rewarding night out at the movies for the whole family.
Release Date: March 4
Batman v Superman: Dawn of Justice
What it's about: Um, Batman (Ben Affleck) fights Superman (Henry Cavill). You need more than that? OK, fine. Zack Snyder's hugely anticipated follow up to his Man of Steel pits the Caped Crusader against the alien "invader" from Krypton, with Lex Luthor (Jesse Eisenberg) pulling he strings to manipulate the heroes from behind the scenes.
Why we care: For a number of different reasons, but primarily because Batman v Superman is expected to help launch the DC Cinematic Universe, which technically began with but is shifting into higher gears with Snyder's March blockbuster. Gal Gadot will be introduced as Wonder Woman. We might get a glimpse at additional Justice League members. And if this movie succeeds, it will set the stage for the nest few years of DC solo adventures – as well as Justice League movies. Move over, Marvel?
Release Date: March 25
The Huntsman: Winter's War
What it's about: After helping Snow White to defeat the Evil Queen, the Huntsman (Chris Hemsworth) strikes off on his own adventure… though we don't know much about it beyond the fact that Charlize Theron is returning, and she's bringing Emily Blunt and Jessica Chastain along for her terrifying ride.
Why we care: Did you hear that cast? I'd pretty much pay to watch Theron, Blunt and Chastain in ANY movie – though The Huntsman might test the validity of that statement. Snow White and the Huntsman was a perfunctory but forgettable fairy tale adventure that made money (enough to justify a sequel), even though it's jettisoning its Snow White (Kristen Stewart) and shifting its focus to Hemsworth. That's an upgrade, in our books, and it will be fun to see how the actor continues to distance this persona from his Thor. Also, again, that cast. Let's see what the beautiful leading ladies bring to this follow-up story.
Release Date: April 22
Captain America: Civil War
What it's about: In the aftermath of a very public attack, the leaders of the world begin to debate how many restrictions should be placed on super-powered beings, with Captain America (Steve Rogers) and Tony Stark (Robert Downey Jr.) landing on opposing sides of the discussion. The ensuing "war" will pit several Marvel heroes against each other… while also introducing new heroes like Black Panther (Chadwick Boseman) and Spider-Man (Tom Holland).
Why we care: Officially, this is the first movie in Marvel's Phase Three of films, and it will help launch several important standalone films, as well as anticipated sequels. Everything in the MCU is now pointed directly at the two Avengers: Infinity Wars films, but curious fans will want to see if a potentially overcrowded Civil War can avoid some of the failings of Age of Ultron. For now, we just want to see a trailer!
Release Date: May 6
Neighbors 2
What it's about: Happy couple Seth Rogen and Rose Byrne have to contend with a new nuisance, this time in the form of a sorority led by Chloe Moretz and Selena Gomez.
Why we care: Because the first Neighbors was hysterically funny, pulling he best out of Rogen and Byrne, and showing us a much funnier side to Zac Efron than we expected. The concept is so basic that it can easily be reverse-engineered to find new jokes in a sorority. Plus, Rogen's on a hot streak with the ridiculously funny The Interview and The Night Before. Let's see if Neighbors 2 keeps it up.
Release Date: May 20
X-Men: Apocalypse
What it's about: Set in the 1980s, on the new timeline established by X-Men: Days of Futures Past, Apocalypse sees Charles Xavier (James McAvoy) and his merry mutants taking on a centuries-old threat (Oscar Isaac) with powers the superhero group has never faced before.
Why we care: The X-Men franchise is at a crossroads. Producer Simon Kinberg has been saying that X-Men: Apocalypse will close out the First Class trilogy, and sure enough, Fox is moving forward with new branches focusing on Deadpool, The New Mutants, Gambit and beyond. But the X-Men will always be the base, and Apocalypse will introduce younger versions of classic characters like Cyclops, Storm, Jean Grey and Nightcrawler. So long as audiences respond in kind to these versions, we should see more X-Men movies with them… right?
Release Date: May 27
Warcraft
What it's about: By adapting the extremely popular role-playing game, director Duncan Jones recreates the peaceful realm of Azeroth, which currently is on the brink of war. He's bringing to life classic Orc warriors who will need the help of human fighters who'll engage in a conflict that will decide the fate of their family, their people and their home.
Why we care: Because the fate of the video-game-as-movie movement hangs in the balance, and films like Warcraft can go a long way toward forwarding the notion that video games can be the next comic books when it comes to inspiring massive cinematic universes. Warcraft will lead the charge – along with Assassin's Creed -- to prove that far-reaching stories (like Uncharted, as an example) have a place on the silver screen, and that Tomb Raider and Doom shouldn't spell "doom" for the game-to-movie movement. If this is good, we'll see Warcraft movies for years to come.
Release Date: June 10
Independence Day Resurgence
What it's about: Twenty years after humanity prevailed over invading alien forces, the extraterrestrials are back, and they're seeking revenge. Now, it's up to new fighters – and a few familiar faces – to figure out how to stop a new alien army that, thanks to Independence Day, has learned from its mistakes and is eager to correct them.
Why we care: Because in the land of nostalgia that is Hollywood, Independence Day is remembered as the type of guilty-please, effects-driven blockbusters that we don't get to see as much anymore. The original had star power to match its fire power, and Independence Day Resurgence looks to return a massive ensemble cast led by Jeff Goldblum, Bill Pullman and Vivica A. Fox, as well as newcomers from Liam Hemsworth to Maika Monroe. Can Roland Emmerich rekindle his magic?
Release Date: June 24
The BFG
What it's about: Adapted from the children's book by Roald Dahl, The BFG follows the odd relationship between a friendly girl and an outcast giant, who is rejected by his peers because he refuses to eat small children. Together, they go on a series of wonderful adventures.
Why we care: Because it's Steven Spielberg. The renowned director has so many potential projects on his plate, we have to stand up and take notice when he finally buttons down and selects one of them for production. Not to mention the fact that The BFG has a spectacular cast which includes Bill Hader, Mark Rylance (Bridge of Spies), Jemaine Clement, Ruby Barnhill and Rebecca Hall. Finally, it has a script by the late Melissa Mathison, giving the screenwriter one last chance, with Spielberg's help, to tug at our heartstrings.
Release Date: July 1
Tarzan
What it's about: David Yates comes off the Harry Potter series and attempts to remake the classic vine swinger for a new generation. Obviously Edgar Rice Burroughs' characters and stories have fed countless movies and television shows over the years. This time, Alexander Skarsgard, Margot Robbie, Samuel L. Jackson and Christoph Waltz will see what they can do with the legend.
Why we care: Because Yates did yeoman's work on the final chapters of Harry Potter, managing a ton of material, and fan expectations, while also growing as a filmmaker. We're excited to see what he can do outside of Hogwarts – even though he's heading back to Rowling land with Fantastic Beasts later this same year. The rumors that there are issue on Tarzan make us more curious than concerned. A trailer will go a long way toward helping us get a clear handle on this summer project.
Release Date: July 1
Ghostbusters
What it's about: Two friends (Kristen Wiig, Melissa McCarthy) who are ostracized by the scientific community launch a ghost-busting franchise in New York City right around the time that supernatural activity begins to ramp up.
Why we care: Because Ghostbusters has been trying to get back on track for years now, and with the original stars failing to figure out an avenue, Sony went with Paul Feig and his idea for an all-female reboot. No matter how you feel about your childhood memories being rebooted, there's no denying that Feig found a funny foursome to play the new Ghostbusters, and this might be the launch of a successful franchise that also could spinoff in new directions.
Release Date: July 15
Star Trek Beyond
What it's about: We're not sure, though we do know that Kirk (Chris Pine), Spock (Zachary Quinto) and the crew of the Enterprise will be exploring deeper reaches of space on this latest big-screen voyage (hence, the "beyond" of the title), and also encountering Idris Elba in a villainous role.
Why we care: Because this is an anniversary year for Star Trek, which celebrates 50 years of entertainment and likely will want to ring in the milestone with a noteworthy chapter in the series' cinematic legacy. Pine and his Star Trek crew likely want to rebound after the disappointing Star Trek Into Darkness, while director Justin Lin hopefully will be creatively stimulated now that he's free of the Fast & Furious franchise after multiple films. Let's see what they came up with.
Release Date: July 22
Bourne 5
What it's about: There's as much mystery surrounding the fifth Bourne movie as there is swirling around the identity of the spy, himself. Matt Damon has said it will try and figure out where Bourne fits into the world of espionage in a post-Snowden universe. But where that will take us is literally anyone's guess.
Why we care: Because Matt Damon is coming back to reclaim his signature franchise from Jeremy Renner, and he's bringing Bourne director Paul Greengrass along with him. The two had sworn off of Bourne after two chapters that completed a trilogy. But after the Renner-led The Bourne Legacy, the studio offered Damon and Greengrass a deal they couldn't refuse, so we're anxious to see if the plot really is worthy of their shaky-cam comeback.
Release Date: July 29
Suicide Squad
What it's about: Major villains from the DC comics universe join forces for a silver-screen adventure that will finally bring to life classic Batman villains like Harley Quinn (Margot Robbie) and Killer Croc (Adewale Akinnuoye-Agbaje), while also introducing the latest screen incarnation of The Joker (Jared Leto).
Why we care: Because of all the superhero movies that we have enjoyed over the years, no one has tried this before – a feature film focused primarily on the villains (though Ben Affleck's Batman is expected to make more than a cameo). Suicide Squad also will further develop the DC Cinematic Universe, arriving an the opportune time of following Batman v Superman and, hopefully, extending the good vibes caused by Zack Snyder's blockbuster. Also, have you seen Margot Robbie's Harley? It's perfection. She is why we care.
Release Date: August 5
Gambit
What it's about: We are hearing that Gambit's first solo film will be a heist movie, and a sexy thriller. But so many things have happened behind the scenes on this movie that, until there's more stability, I'm not even 100% certain the movie can make its 2016 release date.
Why we care: Because Gambit just confirmed that Doug Liman The Bourne Identity, Edge of Tomorrow) has been hired to helm Channing Tatum's spinoff mutant adventure, which we HOPE will restore Remy to a place of stature after X-Men: Origins – Wolverine. Gambit can be a fun and exciting on-screen character, and this Gambit film may rejuvenate interest in the character the way that Deadpool looks to rescue Ryan Reynolds' favorite anti-hero. Fox would like Gambit to help the studio expand on the X-Men franchise. Let's see the movie, and decide how possible that is.
Release Date: October 7
Inferno
What it's about: Robert Langdon (Tom Hanks), the hero of numerous Dan Brown novels, finds himself in another historical conundrum, this one set in Italy and set against a racing clock (again) to stop a madman (Ben Foster) who has a destructive solution to the planet's overpopulation problems.
Why we care: Because Dan Brown's page-turning novels are built to become breakneck cinematic experiences, and Hanks and director Ron Howard are getting closer and closer to figuring out how to adapt them to the screen. The Da Vinci Code had too much exposition. Angels and Demons moved quicker, but still lacked all of the books' urgency. Inferno continues the Langdon saga, and if it succeeds, then the duo maybe can tackle the D.C.-set The Lost Symbol, which is a worthy story ready for an adaptation.
Release Date: October 14
Jack Reacher: Never Go Back
What it's about: Professional wanderer Jack Reacher (Tom Cruise) returns "home" to Virginia, where he expects to reunite with Susan, a military rep who has helped Reacher on multiple cases. Only, different troubles await Reacher (naturally), and shadows from his past return to make life very difficult for the hard-as-stone vigilante.
Why we care: Because Christopher McQuarrie's Jack Reacher was much better than people gave it credit for, and while many finally discovered it on cable or through rentals, it should have kick started a very successful franchise of films based on Lee Child's novels. Thankfully, because of Tom Cruise's recent hot streak, Reacher returns – though Edward Zwick (The Last Samurai) had to step in and direct after Mission: Impossible – Rogue Nation took up too much of McQuarrie's time.
Release Date: October 21
Doctor Strange
What it's about: Arrogant surgeon Stephen Strange (Benedict Cumberbatch) embarks on a journey to heal his damaged hands, leading him to discover the mystic arts while also unlocking dark magics that he eventually must conquer, for the betterment of the human race.
Why we care: Marvel Studio's second movie of 2016 is also expected to steer the MCU into strange territories (no pun intended). Do you remember how trippy things got at the end of Ant-Man, when Paul Rudd risked life and limb to explore the Quantum Realm? These are areas that Marvel wants to examine, and Doctor Strange will help them move into these realms, for better or for worse. At the very least, Doctor Strange has arguably the best cast of any former MCU movie, and that's saying a lot. Joining Cumberbatch will be Chiwetel Ejiofor, Rachel McAdams, Mads Mikkelsen (rumored), Michael Stuhlbarg and Tilda Swinton, playing The Ancient One. Perfect.
Release Date: November 4
Fantastic Beasts and Where to Find Them
What it's about: Spinning off of the Harry Potter series, JK Rowling writes a screenplay around her guide to magical monsters, starring Eddie Redmayne as writer Newt Scamander, a member of a secret community of New York based witches and wizards.
Why we care: Because we are curious if Warner Bros., Rowling and director David Yates actually have figured out a way to extend the Harry Potter film series without milking a paper-thin cow for the benefit of box-office receipts. Fantastic Beasts, on paper, was little more than a resource text, though Rowling seems to have come up with enough of a story to power at least one film. And while we're not entirely sure what to expect out of the period adventure, we can say that Eddie Redmayne looks perfectly cast as Newt. Bring on the magic.
Release Date: November 18
Moana
What it's about: Moana, the latest Disney adventurer, sets off on an expedition across the South Pacific, teaming with a demi God named Maui (Dwayne "The Rock" Johnson) to battle incredible sea creatures and explore brave new worlds.
Why we care: Piggy backing a bit on what I said earlier with regard to Zootopia, I almost have as much faith in Walt Disney Animation, after its recent output of Big Hero 6, Frozen and Wreck-It Ralph, that I do in Pixar – even after its early, record-setting streak of quality features. The Rock in a Disney movie? And a musical? Oh, hell yes. And the South Pacific setting seems like it may free the Disney animators up to create some truly breathtaking locations. Or, this could be a 90-minute Lava. And no one will "lava" that.
Release Date: November 23
Rogue One: A Star Wars Story
What it's about: Set in the time between Revenge of the Sith and A New Hope, Gareth Edwards' Rogue One reportedly is going to follow a band of Rebellion fighters who are tasked with stealing the plans fir the Death Star. You know, the ones that eventually will allow a scrappy pilot named Luke (Mark Hamill) to drop a well-placed blast into the heart of the ominous structure.
Why we care: Lucasfilm's plan for a revitalized Star Wars universe is vast, and Rogue One will be the first feature to exist outside of J.J. Abrams' new trilogy of films – allowing directors and storytellers who grew up on Star Wars to play in the sandbox with characters they wouldn't normally have access to. We're supposed to get a Boba Fett and Han Solo movie in time, but Rogue One is the one that will tell us just how hungry for new Star Wars stories the movie-going public is. Will it be as anticipated as The Force Awakens? Can anything realistically match that level of hype?
Release Date: December 16
Assassin's Creed
What it's about: Based on the video game franchise of the same name, Assassin's Creed introduces a bartender (played by Michael Fassbender) who is kidnapped and forced by a shadowy corporation to travel back in time and relive the adventures of his ancestors, medieval warriors who retrieved valuable artifacts in exotic locations.
Why we care: Because Fassbender's an incredible actor, lending his talents (and therefore, credibility) to a video game franchise with TONS of potential, if they can get the first movie right. Set in beautiful ancient cities and connected to incredible fights and stunts, a series of Assassin's Creed movies could become as anticipated as the next Marvel or DC film. The trouble is, the producers of Prince of Persia probably felt the exact same way. We won't know until we know, so lets wait until December, and hope for the best.
Release Date: December 21
Passengers
What it's about: A great premise finds a spacecraft transporting thousands of people through the galaxies. But when a problem with a sleep pod wakes up one passenger (Chris Pratt), he finally decides to wake up another (Jennifer Lawrence), rather than face the next 60 years of his life on his own.
Why we care: Because Pratt and Lawrence arguably are two of the biggest stars on the planet at the moment, and Passengers is a movie that has been bouncing around Hollywood for a long time, waiting for the right people to get it made. (Keanu Reeves, Reese Witherspoon and Rachel McAdams are just a few of the names that circled Passengers for some time). Morten Tyldum is coming off of the impressive The Imitation Game, while the notion of Michael Sheen as a robot makes me all the more enthused to see what becomes of this.
Release Date: December 21