Why Making Movies Is Really, Really Hard, According To Ridley Scott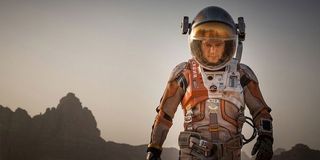 If you've ever picked up a camera, tried to wrangle actors, or sat down to write a script, you know that making movies is not an easy endeavor. There are a lot of moving pieces and continual obstacles to overcome, and even those who've been at it a while admit it's difficult. This even includes some filmmakers who make it look almost effortless, like Ridley Scott, who recently revealed how hard the process is, and why he loves it so much.
Over the course of his career, Ridley Scott has delivered some true classics, like Alien and Blade Runner, and some modern marvels, like 2015's The Martian. But even with more than 35 directorial credits on his resume, with more in the works, and over a hundred producing bows, Sir Ridley told The Guardian that making a movie is still really damn hard. He said:
That sounds like one hell of an undertaking, especially on the scale which he so often works. And if it seems like the people who repeatedly attempt to pull of this intricate, high-stakes (I don't know that it's brain surgery high-stakes) juggling act are a little bit mad, maybe they are. As the 78-year-old filmmaker—I still can't believe he works at the pace he does at 78—says, you have to love it, or it's the king of undertaking that very well may crush you beneath its wheels.
Luckily for us, Sir Ridley Scott is one of the ones who keeps coming back. Sure, some of his recent output hasn't been the best (Exodus: Gods and Kings was…not his greatest movie), but he's not the kind of filmmaker to sit back and rest on his laurels. He has some great movies on his resume, but he has a bunch more in the pipeline that could very well join them.
With a shiny new Golden Globe and a number of Academy Award nominations, The Martian looks like it will stick around for a while, and Ridley Scott is revisiting a few blasts from his past hoping to recapture some of that magic. He has a handful of Prometheus sequels in the works that will reportedly lead up to Alien, timeline wise, and though he's not directing, he's helping to guide Blade Runner 2 into existence before too long. He also has the narco drama The Cartel on his schedule at some point, which sounds promising.
Making movies may be really damn hard, but that hasn't stopped Ridley Scott from doing it, and we're glad that even at 78 he's still as ambitious as ever.
Your Daily Blend of Entertainment News