Watch Ridley Scott Thank His Deceased Brother In Emotional Golden Globes Speech For The Martian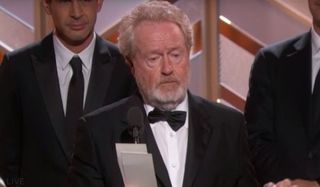 It's become custom for elongated awards speeches to be truncated with the annoying sound of an overture trying to play recently rewarded recipients off stage. It's an unfortunate necessity, otherwise the event would last for days. But at the Golden Globes on Sunday, Sir Ridley Scott delivered an emotional tribute to his late, great brother Tony Scott, all while the orchestra tried to shoo him away. Thank the heavens they didn't succeed though, because it was truly beautiful to see, and it will make any self-respecting cinephile instantly tear up. Sir Ridley's tribute to Tony starts at around the 2:35 mark in the following video.
Personally, that was the highlight of the entire evening for me. Just hearing Sir Ridley remark, "And finally, my brother Tony would have been here tonight for sure. And I know many of you knew and loved him. I miss you Tony," immediately made me well up.
In fact, Ridley Scott's entire speech was rather sensational, starting with his playful quip about The Martian being categorized as a comedy, to him teasing about only receiving awards posthumously, via telling the orchestra, "screw you," all the way up to his surprising tip of the hat to his deceased brethren.
OK, he might have rambled a little bit about how The Martian was "left in the dust" by the juggernaut that was Star Wars: The Force Awakens and how the box office race has turned filmmaking into a sport. But his comments about why this is good for the medium made a lot of sense. Plus, it's Sir Ridley Scott. He can say what the heck he wants. Especially when it comes to Tony.
The 68-year-old Tony Scott, the younger brother of 78-year-old Ridley, died on August 19, 2012. The Top Gun, Man On Fire, Enemy Of The State, and True Romance director committed suicide by jumping off the Vincent Thomas Bridge in San Pedro, California, shocking the cinematic community and sending us all into mourning.
Since his death, Sir Ridley Scott has only spoken sporadically about the death of his younger sibling, telling Variety back in November 2014 that it was "inexplicable" before acknowledging that Tony had been "fighting a lengthy battle with cancer – a diagnosis the family elected to keep private during his treatments and in the immediate wake of his death."
Sir Ridley Scott was on stage as The Martian collected the Golden Globe for Best Motion Picture – Comedy. Sure, it's a comedy in the same way that The Hateful Eight is a film about making a good stew. But the fact that the hugely entertaining sci-fi adventure is being rewarded at all deserves to be celebrated, because The Martian was one of the best-made films of 2015. And, sometimes, that's overlooked in favor of its more shocking counterparts, when it really shouldn't be.
Your Daily Blend of Entertainment News
Thank you for signing up to CinemaBlend. You will receive a verification email shortly.
There was a problem. Please refresh the page and try again.