Why Margot Robbie Was Terrified Of Jared Leto On The Suicide Squad Set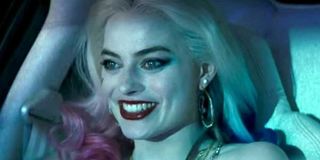 Method actors can get a bit of a bad reputation. Daniel Day Lewis apparently intimated the original young actor starring opposite him in There Will Be Blood so much that he had to be replaced, while Eric Stoltz's insistence that people call him Marty soon had him canned from Back To The Future. While Margot Robbie initially found herself terrified by Jared Leto's Joker during the shooting of Suicide Squad, she eventually got used to it, and now she admitted that she'll probably miss it.
The 25-year-old Australian actress made this admission to the NY Daily News, while at the same time insisting that Leto's decision to go full method resulted in a "pretty impressive" performance. That doesn't mean that she wasn't originally terrified though. Robbie explained:
In fact, Robbie admitted that she has actually had the opportunity to see Jared Leto out of make-up once, and rather than feeling warmed by the presence of the unequivocally good looking man, she actually found herself scared by him even more. She continued:
This is something that I find hard to believe. Because, let's face it, if a green-haired, pale-faced, lip-sticking wearing, face-tattooed maniac with a mouth full of silver teeth approached you on the street, I think we'd all instantly be terrified. You can get used to a lot, but I mean, just look at him:
Margot Robbie made these comments ahead of the release of Z For Zachariah, which is due out on Friday and revolves around a post-apocalyptic love-triangle between her, Chitiwel Ejiofor, and Chris Pine.
It's a much more sombre and less publicised flick than her work in Suicide Squad, but the fact that she's portraying Harley Quinn means that she's always going to be asked about it. Check out a few quick glimpses in the San Diego Comic-Con trailer for the David Ayer-directed supervillain film.
Unfortunately, despite all this attention, we still have almost a year to wait until Suicide Squad, as it isn't scheduled to hit cinemas until August 5, 2016.
Your Daily Blend of Entertainment News