The Marvel Superhero Margot Robbie Almost Played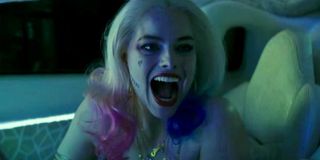 Margot Robbie dodged a major bullet, and we're not just talking about the ones zipping by her in Suicide Squad. Before the Wolf of Wall Street actress was cast as Harley Quinn in David Ayer's DC film, Robbie was up for a Marvel role, that of Sue Storm in Fantastic Four.
Kata Mara portrayed Sue, a.k.a. the Invisible Woman, in Josh Trank's superhero film, which is now known as the infamous Fantastic Four. Robbie, however, revealed in an interview with The New York Daily News that she almost landed the role instead. She said:
In this case, Robbie definitely won. We haven't seen Suicide Squad, so perhaps it's a bit premature to judge the upcoming DC film. That said, the first footage, which debuted at San Diego Comic-Con, got fans totally, utterly riled up for this latest venture in the DC cinematic universe. And Robbie's Quinn stole the show.
Fantastic Four, on the other hand, debuted in theaters on August 7, and it was one of the most poorly reviewed Marvel films in history. (Though, it's important to note that this film is part of the Marvel properties owned by 20th Century Fox and not Disney, which is spearheading the true Marvel Cinematic Universe.) On top of that, it floundered at the box office, and it seems like everyone involved is distancing themselves from the disaster. Trank went on Twitter to hint that the studio ruined what he created, while others say it was Trank who was indecisive. Miles Teller, in turn, tried to lower fans' expectations before the film's release, saying some might not embrace it.
Long story short, it appears that Robbie definitely made the right choice.
According to reports, other actresses up for the role of Sue Storm were Girls' Allison Williams and The Grand Budapest Hotel's Saoirse Ronan. Including Mara and Robbie, all four reportedly tested for the part. Thankfully, Mara's career is already moving away from this bad memory. She'll appear opposite Matt Damon and Jessica Chastain The Martian, and showed up across from Selma's David Oyelowo in trailers for Captive. Elsewhere, she'll team up with Robbie's Suicide Squad castmate Jai Courteney in the post-apocalyptic Man Down. Although Fox is still determined to move forward with Fantastic Four 2, hopefully it won't be another studio-vs-filmmaker train wreck like the first one became.
Suicide Squad hits theaters starting on August 5, 2016.
Your Daily Blend of Entertainment News
Thank you for signing up to CinemaBlend. You will receive a verification email shortly.
There was a problem. Please refresh the page and try again.