Why Paul Rudd And Justin Long Were Terrified Of Playing The Beatles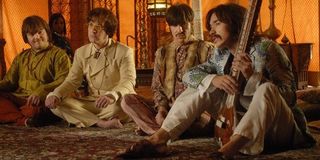 Justin Long has revealed that he was petrified when he was cast as George Harrison of The Beatles in Walk Hard: The Dewey Cox Story.
This is despite the fact that Long's Harrison, Paul Rudd's John Lennon, Jack Black's Paul McCartney and Jason Schwartzman's Ringo Starr were only a small part of the 2007 comedy, which documented the absurd life of John C. Reilly's 1950's rock-and-roller, and drew heavily on the plot of the Johnny Cash biopic, Walk The Line.
Long even admitted during a Reddit Q&A to promote his role in Kevin Smith's Tusk that the night before filming he watched various documentaries of the Fab Four. "We were so nervous – it was such a daunting task to play the Beatles (even though it was a comedic movie) – we wanted to respect how sacred they are," he explained.
It wasn't just Long who was overawed by the possibility of playing one of The Beatles though. In fact, his co-star, Schwartzman even called Rudd's room and told the pair that "he was freaking out" too. However, Jack Black soon came to their rescue and tried to pass down some sage advice to the trio that he hoped would guide them through their worries. Long recalled, "One of those guys said they had run into Jack Black the day before and asked him if he was nervous (to play Paul). Jack said, 'No, dude, I got it. Just watch Hard Days Night!' Unfortunately though, this had the adverse effect on the trio, as they then became convinced that, according to Long, "Jack would come in and blow [them] all away."
It all turned out OK though, and Long, Black, Schwartzman and Rudd's version of The Beatles was actually one of the highlights of the film, which, even though it was a pretty impressive lampooning of the biopic genre, sadly failed to connect with an audience, and ultimately flopped at the box office. You can check out their downright hilarious scenes from Walk Hard: The Dewey Cox Story below:
Justin Long also revealed that, despite the toil and strife that went into his preparation, playing George Harrison turned out to be "one of the most fun days of [his] life," and he even received commendation for his portrayal from a pretty reliable source. He shared:
You can check out Long in Kevin Smith's bizarre horror flick, Tusk , in cinemas across the country starting today.
Your Daily Blend of Entertainment News
Thank you for signing up to CinemaBlend. You will receive a verification email shortly.
There was a problem. Please refresh the page and try again.