Will Ferrell And John C. Reilly To Reunite For Border Guards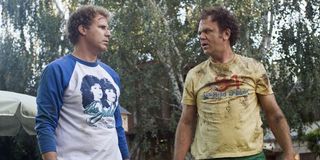 There's a special kind of comedy magic that happens when you pair Will Ferrell with John C. Reilly. And fans of both have reason to rejoice as these two insanely funny performers are reuniting for Border Guards, an upcoming comedy from Adam McKay.
Deadline reports Sony Pictures is backing the Gary Sanchez Productions picture, which will star Ferrell and Reilly as two dopey but eager buddies who aim to give their lives new meaning by protecting America's southern border from would-be trespassers. It's unclear if the pair would be official border guards (as the title suggests) or the volunteer kind you occasionally hear about in strange news stories. Regardless, things take a turn for these two when they find themselves across the border without identification. You know what that means: they have to sneak back into the U.S., evading the very authorities of which they are a part!
While the film is not being described as a political comedy, it seems unavoidable that it could be read that way as immigration is still a hot button issue in the U.S. Even the term "illegal immigrant" has come under fire as being insensitive. Of course, Ferrell is not new to political comedy. He famously impersonated President George W. Bush on Saturday Night Live as well as in the one-man Broadway show You're Welcome America: A Final Night with George W. Bush. But his movies don't generally deal in political issues.
Here's an excerpt of You're Welcome America: A Final Night with George W. Bush:
But if he's going to go political, he's off to a promising start. Working in favor of Border Guards being a sharp political comedy (perhaps even a satire) is its screenwriter, Jesse Armstrong. The English scribe has a seriously stunning CV that includes episodes of the celebrated sitcoms like The Thick of It, Peep Show and Veep as well as contributing credits on the outlandish and outstanding films In The Loop and Four Lions. Both of these comedies famously took taboo topics (war and terrorism) and made them shockingly rich for comedy.
Border Guards will mark the third time Reilly and Ferrell have headlined a movie together, following the hit comedies Step Brothers and Talladega Nights: The Ballad of Ricky Bobby. Notably, both these films were helmed by McKay, and the Anchorman 2: The Legend Continues director is being eyed to helm Border Guards as well. So it's set to be a true family reunion.
Your Daily Blend of Entertainment News
Staff writer at CinemaBlend.