Why The Peanuts Movie Might Not Get A Sequel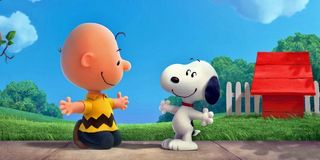 It's no secret that franchises have become the bread and butter of Hollywood in recent years. If something's great and audiences love it, then the only logical thing to do is to give the people more of what they love. While that has been the case for numerous successful films in recent memory, it may not end up being the case for The Peanuts Movie. The family film expertly told the story of Charlie Brown, Snoopy, and the rest of the Peanuts gang, but don't expect any sequels on the horizon.
While The Peanuts Movie did not win its opening weekend, it performed admirably against James Bond and Spectre – garnering a respectable $44 million at the box office. Jean Schulz – widow of Peanuts creator Charles Schulz – voiced her own satisfaction with the final product, as well as the fact that her own husband would be proud of this modern version of his iconic comic strip. That being said, The Wrap reports that she is in "no rush," to spearhead the making of a sequel. Her consent is vital to the process, as Fox only had the rights to produce one movie. Merely getting this one off the ground took the better part of a decade, so if she does voice her approval for a sequel, we could likely expect a similar time frame.
The Peanuts Movie works because it managed to get right to the core of its source material's appeal. Not every adaptation that has been released in recent months has been able to make that claim. Terminator: Genisys essentially gutted the iconic franchise – even going so far as to retcon the good elements of the series out of existence. In addition, Universal's recent failure, Jem and the Holograms, was essentially an adaptation in name only and told a generic origin story that possessed none of the charm of the original cartoon. Sometimes studios are lucky enough to accurately adapt material in a way that is faithful to what came before – such as with The Lego Movie – but if they fail they risk being unable to use that property for the foreseeable future.
If you love Peanuts, but have yet to see The Peanuts Movie, check out the trailer below and see if they got it right:
Fox got it right with The Peanuts Movie, but that does not necessarily mean we now need to see a robust franchise. For now The Peanuts Movie is experiencing immense success both critically as well as financially, so check it out in theaters while you have the chance.
Originally from Connecticut, Conner grew up in San Diego and graduated from Chapman University in 2014. He now lives in Los Angeles working in and around the entertainment industry and can mostly be found binging horror movies and chugging coffee.