Why Point Break Producers Are Convinced Opening Against Star Wars Is A Good Idea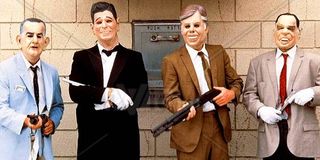 The upcoming remake of Point Break may have hit some bad waves when its release date was shifted from the cozy summer to being locked in a Christmas Day cage with a gigantic lion of a film known as Star Wars: The Force Awakens. However, for one of the film's producers, the perilous release date shift is actually "an opportunity" to work on the visual effects the film plans to showcase when it opens a mere week after Star Wars hits on December 18. Are the folks behind Point Break simply making lemonade out of lemons? Or are they on to something?
In an interview provided by Deadline with Alcon Entertainment CEO Andrew Kosove, the film's producer may have been flashing a serious PR poker face when he implies that the release date swapping of Point Break with the recently moved Mission: Impossible 5 from July 31 to December 25 is actually a GOOD thing.
Kosove also reminds us that big hits like Avatar and Robert Downey Jr.'s Sherlock Holmes saw big numbers during a shared Christmas 2009 release window. It may be the case that Kosove is extremely confident in the film's visual effects to the point that he seriously sees it as a potential contender to possibly ride the wave of momentum of the inevitable box-office juggernaut that The Force Awakens will be.
Anyone who has seen Kathryn Bigelow's original 1991 film with surfing, skydiving, ex-President-impersonating bank robbers will know it to be a property that brings sheer intensity in its showcase of extreme lifestyles and action-packed chase sequences. So, in that respect, Kosove would be right in such a belief in the film's exciting, potentially over-top adrenaline rush. However, when considering whether all of that hipster jazz will be enough to shift the attentions of moviegoers from seeing the fresh new Star Wars movie, the standard answer becomes a bit less optimistic.
According to most of the various synopses floating about, the film will actually follow the original's premise rather closely, even managing to keep the same names for the primary characters. The role of the fresh-faced F.B.I. rookie, Johnny Utah, famously played by Keanu Reeves in the original, will be played by Luke Bracey, an up-and-coming young Aussie actor from The November Man and The Best of Me, who also has the odd distinction of having donned the mask of the villainous Cobra Commander in G.I. Joe: Retaliation.
Playing the role of his direct antagonist/quasi-mentor in the bohemian adrenaline junkie, Bodhi, famously played by the late Patrick Swayze, will be Edgar Ramirez, a Venezuelan actor who continues to build his action-thriller resume -- which already includes Bigelow's Zero Dark Thirty and the big-budget popcorn sequel, Wrath of the Titans. They will be joined by Teresa Palmer and Ray Winstone in roles that will also be analogous to the original film.
Point Break is seriously hoping that the power of "100% pure adrenaline" will be enough to carve out a decent box-office take against the Star Wars monolith when it hits theaters on December 25.
Your Daily Blend of Entertainment News
Thank you for signing up to CinemaBlend. You will receive a verification email shortly.
There was a problem. Please refresh the page and try again.