Why Rome Might Look Like A Disgusting Hellhole In James Bond's SPECTRE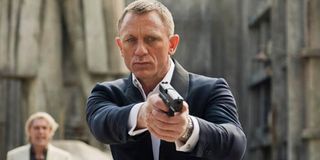 Besides over-the-top action, beautiful babes, and sophisticated suits, the James Bond franchise is also known for its beautifully sublime shooting locales. The upcoming Bond film, SPECTRE certainly was not looking to break that trend with its impending shoot in Rome. However, due to the apparent trashy, graffiti-ridden state of the city, things are looking mighty dire for the signature aesthetic that the film is hoping to carry.
According to the UK's The Independent, the pre-production team for SPECTRE is increasingly finding that the city of Rome, which typically brings to mind images of ancient historical architecture and classy old-world European vibes, is laden with litter. It appears that, to follow the concluding advice of the old saying, "do as the Romans do" would involve tossing garbage on the stairs and cobblestone streets while tagging up public property with gaudy-looking sayings which nobody except you and your dumb friends give two craps about. With shooting for SPECTRE reportedly set to begin in 3 short weeks, a new challenge has been given to the production of the 24th official Bond film. However, local authorities are vowing to have the city cleaned up in time to show Rome at its ancient, rustic best.
According to Lucia Ritrovato, the spokeswoman for Rome's mayor, Ignazio Marino:
Clearly, the undertaking of cleaning up an entire city within the time frame of 3 weeks is a massive one. Having the latest Bond film come into town is always an opportunity to showcase what your community has to offer to potential cash-heavy tourists. It certainly would be pretty awkward to see Daniel Craig's 007 chasing bad guys through the streets of Rome while kicking away piles of refuse, running past an array of stupid wall tags that would unfortunately be immortalized in celluloid for all the ages to see. That is just not classy and it's unbecoming of the backdrop in which James Bond dispatches exotic assassins with extreme Walther PPK-powered prejudice. So, hopefully, like their ancestors of the storied Roman Empire, the people of Rome will arm themselves with weapons in the form of brooms and get to sweeping their streets and scrubbing some walls, lest Rome starts to gain a reputation as being fodder for the worst episode of Hoarders ever.
SPECTRE will see (after a brief period of shuffling) the return behind the camera of Sam Mendes, who directed 2012's hugely successful $1.1 billion-grossing previous Bond chapter, Skyfall. The very title of the film alone is a provocative nod to old-school fans of the Bond franchise, hinting the return of the evil global terrorist syndicate in which its highest ranking officials were quite literally numbers. While their presence seemed to be hinted in the first two Craig Bond films, the angle was put on the backburner for Skyfall, which served as the most introspective look into the Bond character, his past and his motivations. Now that the junk in Bond's proverbial closet has been cleaned, SPECTRE will certainly be a return to form for the MI6 agent with a license to kill and ladies to thrill.
SPECTRE is currently set to arrive at theaters by way of a high speed crash (that might knock loose a lot of Roman street trash) with a bullet-ridden sleek new Aston Martin on November 6.
Your Daily Blend of Entertainment News
Thank you for signing up to CinemaBlend. You will receive a verification email shortly.
There was a problem. Please refresh the page and try again.